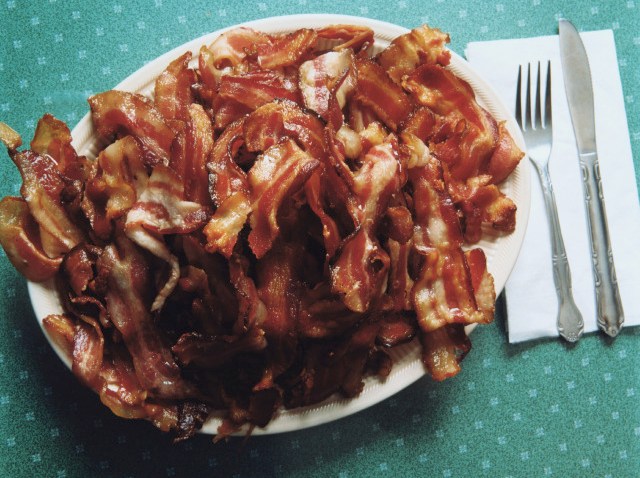 PIG OUT: When life's got you down, reach for chocolate. And when chocolate just isn't enough, reach for Vosges Bacon Chocolate and let your senses go "hog" wild. Applewood smoked bacon and alder wood smoked salt with rich chocolate makes up the Milk Chocolate Bacon Bar, but why stop there? Go for the whole kit n' caboodle and treat yourself to the Bacon Gift Box. Loaded with Bacon Toffee, milk and dark chocolate bacon bars, two flying chocolate pigs (because what bacon gift set would be complete without those?) and Mo's Bacon Chocolate Chip Pancake Mix; it'll keep you satisfied in an unusually exotic way. Who would have thought bacon and chocolate – two of life's most delectable indulgences -- could unite as one. Bacon Gift Box $62, vosgeschocolate.com

GET THE SCOOP: No, this sale is not on Michigan Avenue. It's not conveniently located next to your place of employment nor is it perfect for sneaking off to during a lunch break. But the trek to this store is worthwhile nonetheless. Head to Bucktown this weekend and check out Scoop NYC. With 25 percent off already reduced sale items it's the perfect time to hook yourself up with that designer skirt you never thought you needed. 1702 North Milwaukee Ave.

ULTIMATE CONVENIENCE FACTOR: We have busy lives. And that means that sometimes, it's just easier to order in. No, we're not talking about Chinese food, we're referring to finding that perfect party dress. But if you simply don't have the time to go shopping, get a mani, buy booze and pick up your dress, Ultimo is temporarily making it a little easier to manage. Order online through today July 31and get free domestic UPS ground shipping by entering the code 'FREESHIP' at checkout. Just hurry, you only have the afternoon to get it done. But then again, you're used to being rushed so it shouldn't be a problem.
Copyright FREEL - NBC Local Media