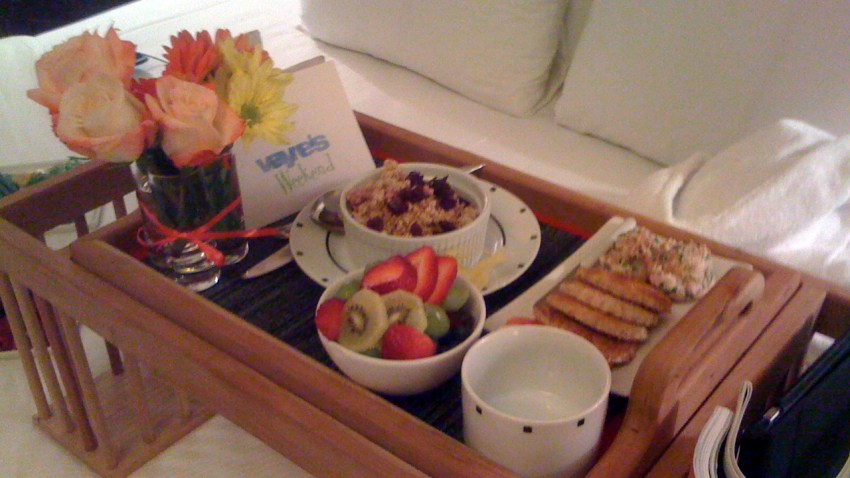 Making breakfast in bed for someone is special no matter what the occasion. In fact, it's even more impressive if there's no occasion, and you're doing it just to be nice.

I received a number of great ideas from my Facebook friends for this segment. Recurring suggestions among many folks included keeping it simple, including fresh fruit and flowers, and adding both sweet and savory elements. I think everyone was right on target.

I had actually planned a totally different menu for this segment but my range died on me in my kitchen and I decided, instead, to make a breakfast that required no cooking at all (with the exception of using a toaster and microwave to boil water). So, even if you aren't handy in the kitchen, here are some easy tips and a recipe that will help you create a tasty wake up call for someone you care about.

Small Plates

Use small plates and bowls and small quantities of food. No matter how well those bed trays are designed, they are always a bit unstable and most people are not really used to eating in bed. So, make sure you put things on the try that won't spill easily. Even for flowers, consider using a small wide bottomed vase that won't tip over.

Fresh Fruit

Fresh cut fruit is an easy item to prepare for your breakfast. Everything should be ripe and flavorful this time of year. But, if you'd like to add a little spark, add a pinch of sugar and some fresh squeezed orange juice and top it with a sprinkle of powdered sugar and lemon zest.

Custom Granola

Many grocery stores offer bulk ingredients that you can select separately to make your own granola combination. So, make a custom bowl of flavorful ingredients for your special breakfast and even consider giving it a unique name so it truly sounds like a custom blend made just for the occasion.

Something Savory

Contrasting the fruit and granola with something savory rounds out the flavor profile of your little breakfast. Because I wasn't cooking, I created a prosciutto spread with oregano, onions, chives, and a bit of spreadable cream cheese. You can make this the night before and then serve it up with some toast points.

Prosciutto Spread

Ingredients

2 oz Prosciutto, minced
2 tsp Fresh Oregano, minced
1/4 tsp Fresh Dill, minced
1 tsp Dijon Mustard
2 tsp Onions, minced
2 tsp Fresh Chives, minced
1/8 tsp Salt

Method

Mix ingredients together and serve.

Fresh Squeezed

Fresh squeezed orange juice adds a nice touch. You can also mix it with other juices, like tangerine, to make a custom blend as well.

Fresh Coffee or Tea

Brew a nice pot of coffee or tea. If you have a small carafe to bring a little extra along to the bedroom for refills, that's great.

A Little Reading Material

In the past, a newspaper or magazine was the perfect way to leisurely enjoy breakfast in bed. Now with digital tablets, like an iPad, you have an electronic alternative to offer up to your special someone.

A Little Card

If you are feeling very giving on this morning, include a coupon or simple card that says you agree to do a little more than is expected of you that day. Maybe you do a few extra household chores or make social plans for a special night out. Be creative!

Fresh Flowers

Flowers add a nice finishing touch. And, as mentioned above try to use a shorter vase so you don't have water and flowers all over your bed!

The bottom line is just making the effort is really special. Everything else you do is gravy. So, pick a few of the things mentioned above (or all of them) and your special someone will have a great morning.

Special thanks to Robert Neubert and the great staff at Hilton Chicago for letting us use the master bedroom in the Imperial Suite as a backdrop for this segment. It's pretty impressive and a really nice place to have breakfast!

If you have any questions or comments, please send me an email at wayne@waynesweekend.com or follow me on Facebook.