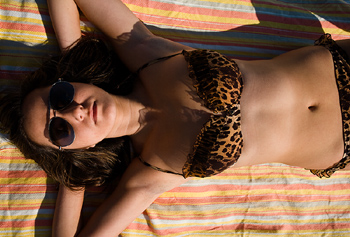 In the middle of winter, many of us are crying out for any sort of bronze color at all, now that our summer tans are long (LONG) gone and winter white has fully taken over.
But we also want to avoid looking like Magda from "There's Something About Mary" at all costs, meaning both tanning salons and orange-inducing self tanners are out of the picture. Enter a new spa service at Equinox that will leave you looking like you just spent the week on the beach but without the sun damage -- the Body Bronze.
The new service is an airbrush tanning treatment that is quickly becoming the favored alternative to perfecting the bronze glow. Trained aestheticians consult with each customer to create the perfect customized tanning cocktail based on the client's skin type, allowing for premium and natural looking results. The cocktail is kept on file for future appointments, ensuring you can recreate the same glow time and time again.
Don't have a membership to Equinox? No problem, you don't need one. Body Bronze is available at the 900 North Michigan, Lincoln Park and Highland Park Equinox locations in Chicago for both members and non-members.
It costs $35 for first time clients that are Equinox members and $45 for non-members.
After all, spring is right around the corner and you're going to have to show off those stems at some point soon, aren't cha?
Kim Peiffer is the founder of The Glow List, an online magazine dedicated to fitness, beauty, diet, spa and travel.