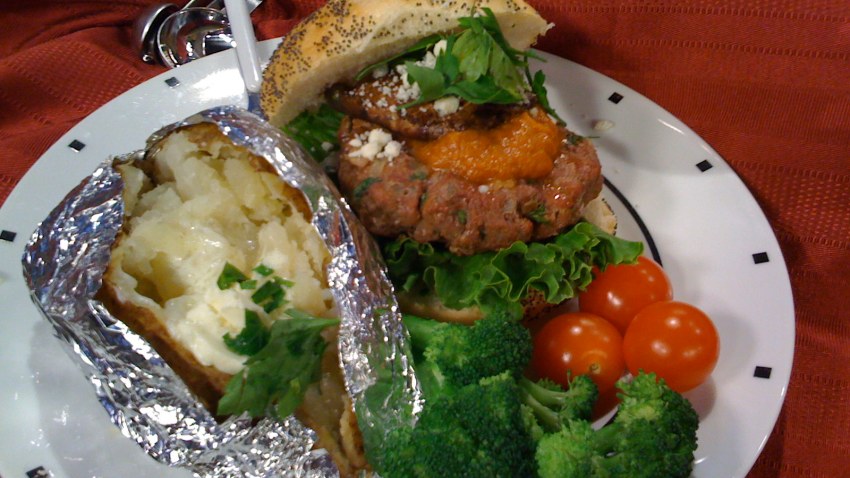 As soon as the thermometer starts rising, grilling season begins. I received a large number of requests and suggestions from my facebook friends, including ideas for steaks and chops, seafood, fruits and vegetables, and even basic tips for serving large crowds.

I hope to share ideas in all of those areas this season, but I decided to start off with a basic crowd pleaser, a big burger. And, we've decided to call our half-pound bad boy The Wayne's Weekend Monster Burger, or WWMB. It's made with my homemade grilling spices and a few other simple ingredients. It's big in size, big on taste, and perfect for the grill.

Wayne's Weekend Monster Burger
The WWMB

Ingredients

1 1/2 lb Ground Sirloin
1/2 lb Ground Beef, 80%-85% lean
1/3 cu Flat Leaf Parsley, finely chopped
2 tbl Wayne's Grilling Spice Mix for Beef (recipe below)
1 cu White Onion, finely chopped
1/2 cu Grated Parmigiano Reggiano Cheese
1 Jalapeño, seeded and chopped (leave seeds in for extra heat)

Method

Prepare your grill.

In a large bowl, combine the ground sirloin and ground beef. Add the parsley, grilling spices, onion, cheese and jalapeño and mix well. Divide mixture into four equal portions and form into patties. Don't compress the meat too much (just enough for them to keep their shape).

Grill patties over direct heat for 5 minutes per side. Don't press the meat to squeeze out the liquid. When done to medium temperature, center of burgers should be at 160-165 degrees on an instant read thermometer.

Remove from heat and serve on toasted buns with condiments of your choice. Try serving this burger with a baked potato and/or grilled vegetables.

Beef Grilling Spice Mix
double or triple this recipe and use it all season long

Ingredients
all dried herbs and spices

2 tsp Paprika
2 tsp Black Pepper
1 tsp Red Pepper Flakes
2 tsp Salt
1 1/2 tsp Onion Powder
1 1/2 tsp Brown Sugar
2 tsp Sage
1 tsp Celery Seed
1 1/2 tsp Chili Powder
2 tsp Rosemary
1 1/2 tsp Tarragon
2 tsp Parsley

Method

Mix ingredients together and either grind in spice grinder or in a mortar and pestle. Store in an airtight container.

If you'd like the recipe for my other spice mixes, you can find them here.

If you have any questions or comments, please send me an email at wayne@waynesweekend.com or follow me on facebook.