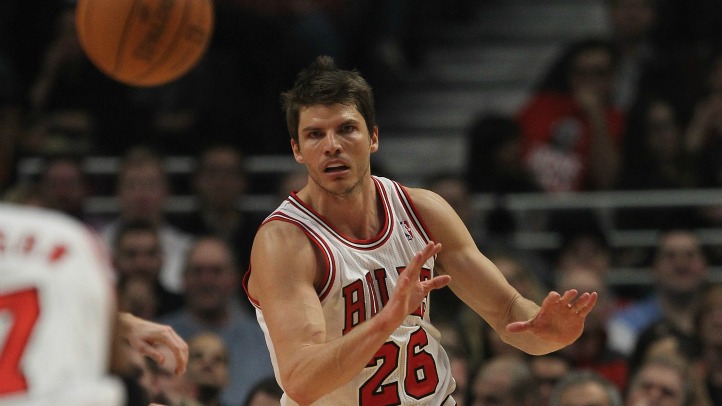 The dismantling of the Bench Mob this summer caused a lot of angst and anguish for fans of the Chicago Bulls. Next to the stellar play of Derrick Rose, the reserve unit was the biggest reason for the success the team had over the last two seasons.
But while some fans accused the Bulls of being cheap and breaking up the team, they really had no other alternative, according to the Bench Mob's "shooter" and newest member of the Atlanta Hawks, Kyle Korver.
"It wasn't anything about our play," Korver said in an interview with HoopsWorld. "It was strictly a business decision. They were way over the salary cap. Derrick's contract is a big one and it kicked in and you already have a lot of other guys locked in."
Rose is set to make a little over $16 million this season, $9 million more than he made in 2011-12. Add that to the large contracts of Carlos Boozer, Joakim Noah and Luol Deng, it quickly becomes apparent the front office couldn't have kept the team intact, even if they wanted to.
But if there is any good news in what happened during the offseason, it's that the team dealt honestly and squarely with the players about their departures.
"We had a bunch of really solid players but they had to let everybody go and that's just the new business of the NBA. It's the business side. We all learned that last year, right? It's a business and you know what to expect. The Bulls were upfront with us."
Just business. That's how it always is in the movies, right?

Here's more news from around the web: