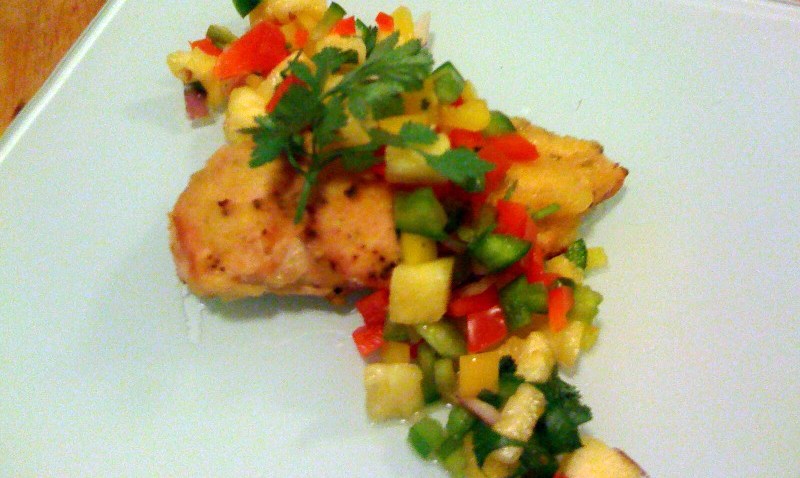 I was recently challenged by my friends in the newsroom to create more meals that were easy, cheap and healthy. We're all looking for ways to stretch the meal-planning dollar and shopping for in season fresh produce and on sale items is the first place to start. Using as few ingredients as possible, but with a focus on freshness, I created three dishes. Pineapples are very inexpensive right now, and I used them for both the chicken dish and the sorbet. Sweet potatoes, zucchini and squash were all low priced in my local market, so they became the focal point of the vegetable casserole.

Pineapple Chicken

3 cu Fresh Pineapple Chunks
1/2 cu Water
4 Chicken Breasts, about 1 1/4 lbs total
1 1/2 cu Bell Peppers (I used equal amounts of red, green and yellow), diced
1/4 cu Fresh Cilantro, chopped
1/4 cu Red Onion, diced
1 tsp Salt

Method

Place 2 cups of the pineapple in a blender or food processor and puree until complete smooth. Pour puree and water into a saucepan and bring to a boil. Reduce heat so mixture doesn't boil over, but continue on a medium boil for about 10 minutes until mixture thickens.

Preheat oven to 350 degrees. Place chicken breasts in a baking dish. Season with salt and pepper and then liberally baste with pineapple puree. Place chicken in the oven. Baste the chicken again after 15 minutes and 30 minutes. Bake for an additional 10 minutes (40 minutes total) or until chicken is cooked through. Remove from the oven and let chicken rest for 10 minutes.

To make the salsa, finely dice the remaining pineapple and combine it with peppers, onions and cilantro. Season mixture with salt.

To serve, arrange chicken on a platter or individual plats and spoon salsa on top.

Baked Vegetables

Ingredients

1 lg Sweet Potato, peeled and finely diced
1 tsp Fresh Ginger, very finely minced
1/2 cu Fat Free Chicken Stock
1/2 tsp Salt
1/4 tsp Pepper
2 med Zucchini, thinly sliced
2 med Yellow Squash, thinly sliced
1/2 cu Panko Bread Crumbs
1 tbl Olive Oil

Method

Preheat oven to 350 degrees.

Combine sweet potato, ginger and chicken stock in a medium sized bowl. Season with salt and pepper and set aside.

Set aside 3-4 slices each of the squash and zucchini.

Create a layer using half of the thinly sliced zucchini in the bottom of a baking dish with slices slightly overlapping. Cover that layer with a layer of half of the squash. Sprinkle half of the sweet potato mixture over the squash. Repeat all three layers once again.

Mix olive oil and panko and sprinkle over the top of the vegetables. Finally, arrange the remaining zucchini and squash in the small pattern in the center. Loosley cover with aluminum and bake for 30 minutes. Remove aluminum and bake for an additional 10 minutes until breadcrumbs are golden brown. Let rest for 10 minutes and then serve.

Pineapple Sorbet

Ingredients

2 cu Fresh Pineapple Chunks
1 1/3 cu Water
2/3 cu Granulate Sugar
Wedges of Fresh Pineapple for Garnish

Method

Puree pineapple chunks in a blender until as smooth as possible. Set aside.

Combine sugar and water in a medium saucepan and bring to a boil, stirring until sugar has completely dissolved. Remove from heat and allow to cool. Combine with pineapple puree and refrigerate for 30 minutes to 1 hour. Place in an ice cream maker and freeze according to directions.

Serve with a wedge of fresh pineapple.

If you have any questions or comments, please send me an email at wayne@waynesweekend.com or follow me on facebook.