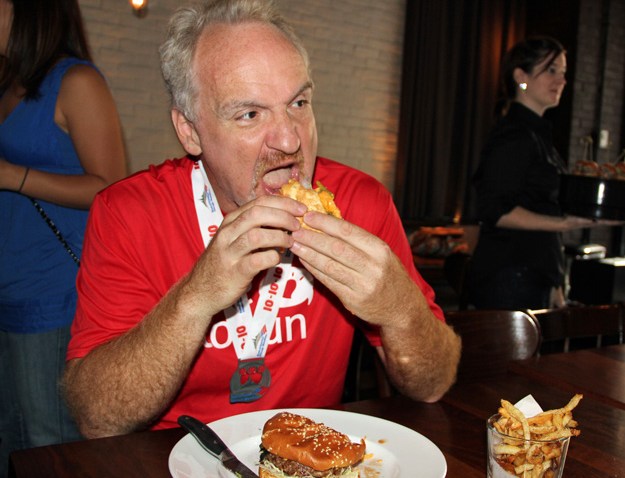 Forget the power shakes and granola -- finishing a marathon deserves a much bigger and greasier reward.
Just ask celebrity chef Art Smith, who celebrated his 4 hours 32 minute race with a gathering at HUB 51 and the restaurant's green chile cheeseburger.
"I definitely deserve this," Smith said at the party, surrounded by family and friends.
Last year at this time, was north of 340 pounds and seriously considering making drastic changes in order to save his life. These days he's 230 pounds, and yes, tackling and competing marathons.
"I wanted to get in better shape, but no, I never thought I'd actually be competing in a marathon," Smith said. "It was an incredible experience, winding through all those different neighborhoods and their different smells and backdrops. But by the time we got to the South Side, we kept winding around corners and I thought it was never going to end!"
Smith was accompanied on his run by his fitness advisor, Az Ferguson, who set him up on the program that helped him lose all the weight.
"You've just got to do the work, and as long as you're prepared to do the work involved, you'll see the rewards," Ferguson said.
So unfortunately, there is no magic pill that will make it happen overnight. Smith says it's important to set up as schedule that you stick to, and incorporate at least 30-40 minutes of aerobic activity a day.
And the good news? Apparently it's OK to work a burger into that regimen every now and then.