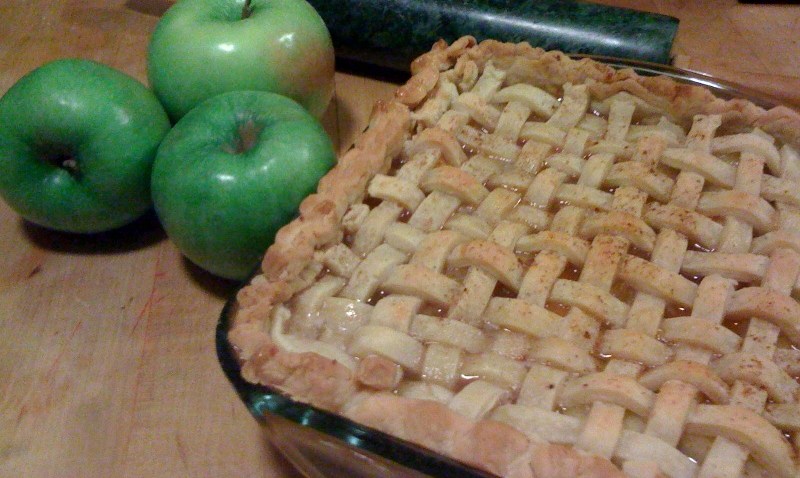 On my recent trip home to see my folks in Houston, I was treated to one of my favorite dishes, mom's peach cobbler. I've made her recipe many times and always get rave reviews. But, I decided to experiment with adding apples to the recipe. The result is a nice combination of flavors that I think you'll enjoy.

Apple Peach Cobbler
adapted from mom's original peach cobbler recipe

Ingredients

Mom's Pie Crust

2 1/2 cu All Purpose Flour
3/4 cu Margarine (12 tablespoons), diced and cold
6 oz Cream Cheese, diced and cold

Cobbler Filling

2 cans sliced peaches (15.25 oz. size)
2 lb Granny Smith Apples, peeled & sliced in wedges similar to the canned peaches
7 tbl Margarine
1 cu Granulated Sugar
1/2 cu Brown Sugar
2 tsp Cornstarch
1 tsp Nutmeg
1/2 tsp Cinnamon
1 tsp Vanilla Extract
Additional granulated sugar, cinnamon, and nutmeg to sprinkle on crusts

Method

Prepare crusts. Combine flour, margarine and cream cheese and mix together with your hands, breaking margarine and cream cheese down into smaller bits. Continue blending until the flour has been incorporated and dough holds together. Divide the dough into two equal parts. Roll each into a ball and flatten slightly. Wrap each in plastic and refrigerate for an hour.

Preheat oven to 325 degrees. Remove one dough package from the refrigerator and roll it out on a floured board to about a 14" square. Transfer to an 8" x 8" baking dish. Round the excess dough into a thick border around the edge of the dish. Using your index finger on one hand and your thumb and index finger on the other, form ridges in the border. Using a fork, make random holes in the crust. Lightly sprinkle the crust with sugar, cinnamon and nutmeg. Because this is a delicate and soft dough, I place two sheets of aluminum crisscrossing each other in the bottom and up the sides of the pan against the crust. Pressed into the dough, this will keep the crust from sliding down the dish during the initial baking process. Bake crust in the oven until lightly brown (about 12 to 15 minutes). Remove from oven and remove aluminum. Allow to cool.

In the meantime, pour about 2 tablespoons of the liquid from one of the peaches into a small bowl. Add cornstarch and stir until fully incorporated. Set aside. In a large saucepan, melt 3 tablespoons of margarine over medium high heat. Add apples and 1/2 cup of sugar. Sautee until apples are tender but still firm, about 5 minutes. Add peaches and their juices, the remaining granulated sugar, brown sugar, and dissolved cornstarch. Bring to a boil. Reduce heat to medium. Add 2 tablespoons of margarine, 1 teaspoon of nutmeg, 1/2 teaspoon of cinnamon, and the vanilla. Continue to simmer until mixture thickens, about 7-10 minutes. Remove from heat and allow mixture to cool. Pour into prepared crust.

Roll out second crust into a rectangle 9" x 12". Cut 1/2" strips 9" long, yielding about 22-24 strips. Starting on one corner of your cobbler, lay one strip vertically across and lay a second one perpendicular to the first. Continue laying strips in an alternating pattern interlacing them with the previous strips to form a latticework top. Tuck the edges up against the ridges of the bottom crust. Sprinkle the top with granulated sugar cinnamon, and nutmeg. Dot the top with the remaining 2 tablespoons of margarine cut into small pieces. Place on the center rack of your oven and bake until the crust is golden, about 20-25 minutes. Serve warm with vanilla ice cream.

If you have any comments or questions, please send me an email at wayne@waynesweekend.com. You can also follow me on twitter or facebook.