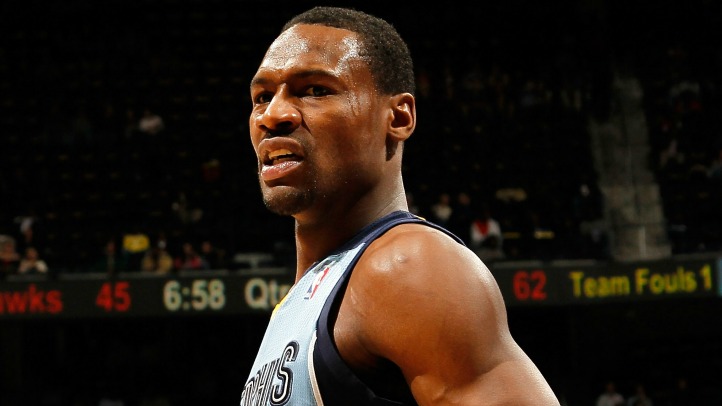 Chicago Bulls training camp invitee Ryan Allen, is the unheralded younger brother of Memphis Grizzlies guard Tony Allen. And while the elder Allen doesn't have to worry about his roster spot, his younger brother is trying to make a good enough impression to land a spot on the Bulls squad.
Despite the huge differences in their career arcs, the Chicago natives had the unique opportunity to play against one another on Tuesday night as Ryan suited up for the Bulls and Tony for the Grizzlies in Chicago's preseason opener. And it seems that big brother doesn't do nepotism as he openly admitted to treating his younger brother as if he were an enemy.
"I treat him like a rival," said Tony in the Memphis locker room before the Grizzlies took the floor. "I don't want to talk to him before the game. I'm not into talking to anybody before a game, not even my little brother."
Ryan Allen, for his part, was appreciative of the opportunity just to play in front of their mom and other friends and family in the United Center, but he couldn't quite understand his brother giving him the silent treatment before the game.
"I was trying to call him but he wouldn't answer," said Ryan while sitting in the locker of his other NBA player relationship, best friend, Derrick Rose. "I didn't understand. I called my mom like, 'where's Tony at?'"
Despite his connections, there's a good chance Ryan won't make the Bulls final roster. But it was a positive experience for both brothers who seemed to relish the opportunity to share the same NBA court, for at least one night.
"It's a dream come true, obviously," said Tony. "For the most part, I'm just happy that the Bulls gave him an opportunity to come out here and at least get a chance to make the team … Obviously he made the team off his own muscle. He didn't get drafted, he didn't get put on their summer league or anything. He just went there – their little mini-camp – and showed them what he can do. God is good in that sense and I wish him the best."
"It was a great feeling to be out there with my brother," offered Ryan. "Watching him play all these years, to be here on this stage is big … It's a great experience. Being around these guys that have been in the NBA for so long, and to have an opportunity to get coaching from Thibs, a future Hall of Famer, you can't ask for more."