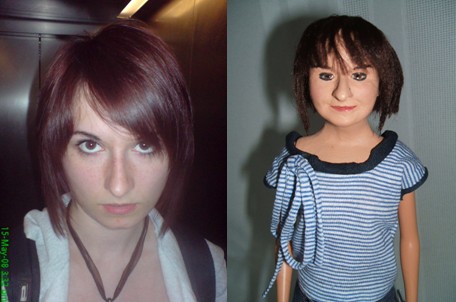 Baby, you're a real doll.
Weary of generic Barbies and Kens, a local crafts maven recently launched Be A Doll, which creates custom figurines of you (or someone you love -- or hate, for that matter).
The bespoke business when artist Cyndi Safstrom posted a YouTube video of one of her custom dolls. The vid prompted more orders, and -- voila! -- a niche you didn't even know existed was filled.
To get your likeness in doll form, simply send Safstrom high-quality photos of your face and your profile (the artist also likes to work from video). Safstrom will then consult with you on the type of clothing your doll will be donning.
Most people go for their everyday look, says Safstrom, but Be A Doll can accommodate unusual requests, as well (superhero cape, anyone?). The best part is that every hand-sculpted doll head gets perched on a slender, 11-inch vinyl bod, so your figurine might look even better than the real thing.
Your doll will take two to three weeks to create and will set you back $180 (or $170 each if you order two or more -- they're perfect gifts!). And if you're more into celebrity worship than self adulation (you really need to work on that, BTW), Safstrom has some "famous" figurines up for sale, as well, including an eerie rendition of the King of Pop himself.
Copyright FREEL - NBC Local Media