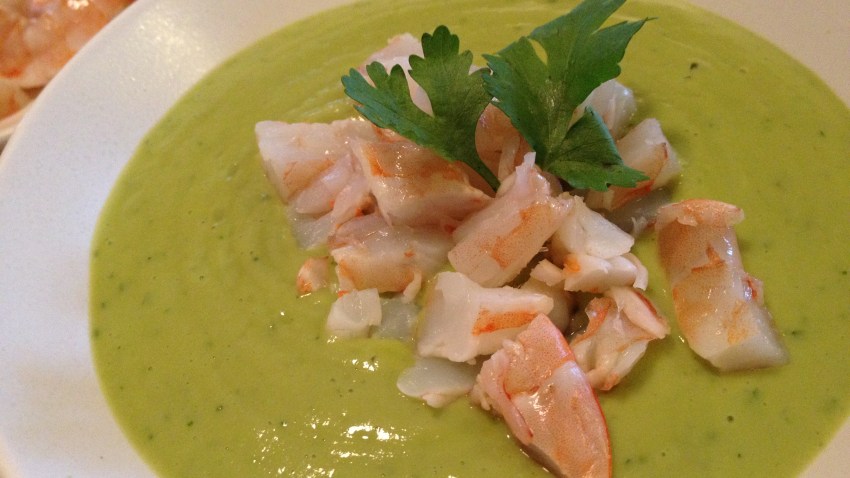 Summertime is the perfect time for soups and appetizers that can be served cold or at room temperature. These dishes can be made in advance so that last minute preparation is minimized. Seafood that can be prepared ahead of time and then served cold, like salmon and shrimp, also adds a nice dimension to any recipe, too. The gazpacho below is an old favorite of mine and the smoked salmon bruschetta was sent to me by friends Pat Schmidt and Joey Chiappetta.

Smoked Avocado and Shrimp Soup
makes about 5 cups of soup for 4-6 servings

Ingredients

3 med Avocados, firm but ripe
1/2 lb Raw Shrimp, peeled and deveined
1 Jalapeño, halved and seeded
1/3 cu Fresh Lime Juice
1/3 cu Fresh Cilantro, leaves only (pull from stems)
2 1/4 cu Fat Free Chicken Stock
2 cloves Garlic, smashed and minced
1/4 tsp Louisiana Hot Sauce
3/4 cu Plain Greek Yogurt
Salt and Pepper, to taste
2 tbl Fresh Chives, chopped for garnish
Additional Cilantro Leaves, for garnish
Thin Lime Slices, for garnish
Chilled Soup Bowls

Method

Heat your smoker to 225 degrees F. If you are using a charcoal grill, preheat the grill with a small number coals pushed to one side for indirect method cooking/smoking. Add a small amount of hickory wood to the smoker.

Slice the avocados and remove the seed. Brush the cut surface with a little lime juice. Place the shrimp in a small bowl and spoon about a tablespoon of lime juice on top and toss. Place avocados, jalapeño and shrimp on a baking sheet and put them in the smoker for 30 minutes or until shrimp is cooked through. Be sure not to overcook the shrimp. Remove from the smoker and allow to cool. Place shrimp in a covered bowl and refrigerate.

Spoon the avocado from its skin and put it into a blender. Add jalapeño, remaining lime juice, cilantro, chicken stock, garlic, hot sauce and yogurt. Blend until spoon. Refrigerate for 2 hours or longer. Once chilled, taste for seasoning and add salt and pepper if you like.

Pour individual servings of soup into bowls. Roughly chop the shrimp and add on top. Garnish with cilantro leaves, chives and a lime slice.

Smoked Salmon Bruschetta
courtesy of Pat Schmidt and Joey Chiappetta

Ingredients

1 Baquette
2 lg cloves Garlic, slightly smashed
2 oz Smoked Salmon, diced
4 med Roma Tomatoes, seeded and diced
1 sm Red Onion, diced
1 tbl Capers
1 tbl Chives, diced
1/2 tsp Fresh Dill minced
1 tbl Red Wine Vinegar
1 1/2 t/l Extra Virgin Olive Oil
4 oz Cream Cheese
Salt and Pepper, to taste
Additional Dill, for garnish

Method

Preheat oven to 350F. Slice baguette into thin 1/2" slices on an angle. Arrange on a baking sheet and bake until crisp, turning once, about 15-20 minutes. Remove from oven and allow to cool slightly. Rub each with the smashed garlic and set aside.

Put salmon in a large bowl and add tomatoes, red onion, capers, dill and chives. Separately, whisk olive oil into red wine vinegar until fully emulsified. Pour over salmon mixture and toss to combine. Season with salt and pepper and set aside.

Smear each baguette slice with a thin layer of cream cheese on one side and arrange on a serving platter. Top each slice with a spoonful of the salmon mixture. Add a sprig of dill and serve.


Gazpacho with Grilled Shrimp
makes about 6 cups

This is my traditional gazpacho recipe. But, I've added about 3/4 pound of grilled shrimp to give it a little extra flavor and to give my guests more options.

Ingredients

Shrimp
3/4 lb Shrimp, peeled and deveined
1 1/2 tbl Lemon Juice
1 tbl Olive Oil
1/4 tsp Salt
Zest of 1 Lemon

Soup
2 lg Tomatoes
1/2 cu Roasted Red Pepper
1 Seedless Cucumber
1 lg Yellow Onion
1 lg Green Pepper
3 cu V8 Juice (spicy or regular)
2 Jalapeño Peppers, seeded
1 sm Red Pepper
1/2 cu Light Olive Oil
1/2 cu Red Wine Vinegar
2 tbl Balsamic Vinegar
1 tsp Louisiana Hot Sauce
1/2 tsp Cumin
1/2 tsp Dill
1/2 tsp Chili Powder
1 tbl Worchestershire Sauce
1/2 tsp Salt
1/2 tsp Pepper
1/4 cu Chives, chopped for garnish
Sour Cream for garnish
Croutons for garnish

Method

Cut 1 tomato into large chunks. Place tomato in a blender with 1 cup of V8 juice. Add 1/2 each of the cucumber, onion and green pepper. Add 1 jalapeño pepper and the roasted red pepper. Blend ingredients until smooth. Transfer to a large bowl. Add remaining V8 juice, olive oil, red wine vinegar, balsamic vinegar, Louisiana hot sauce, cumin, dill, chili powder, Worchestershire sauce, salt and pepper. Stir together ingredients, cover and refrigerate for 2 hours or longer.

Meanwhile, mix all shrimp ingredients except zest together in a bowl. Cover and refrigerate for 30 minutes. Preheat your grill, if necessary.

Separately, chop the remaining 1/2 each of cucumber, onion and green pepper and place in separate small bowls or serving dishes. Chop remaining jalapeño pepper and the small red pepper and place them in additional bowls or serving dishes. Place chives, sour cream and croutons in serving dishes as well.

Grill shrimp until just cooked through. Be sure not to overcook. Remove from grill and transfer to another small serving bowl. Toss shrimp with lemon zest.

Serve gazpacho in individual chilled bowls and allow your guest to add a few shrimp and any of the extras that they like.

If you have any comments or questions, please send me an email at wayne@waynesweekend.com or follow me on Facebook or Twitter.