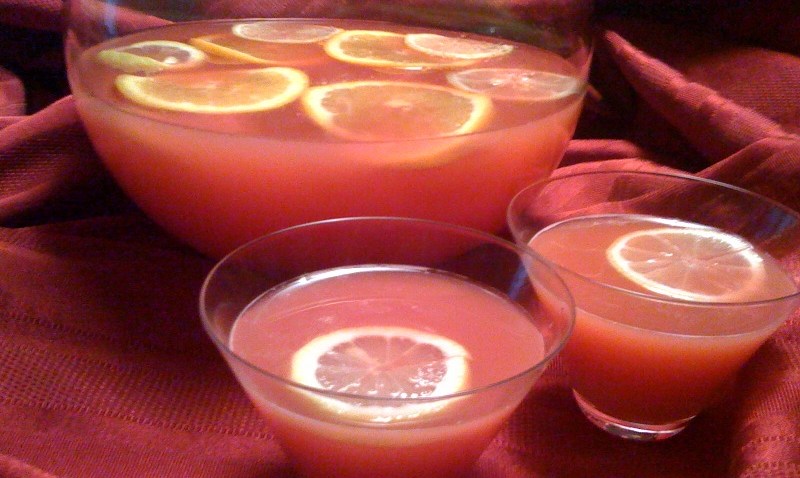 This time of year is full of celebrations. Whether it's Christmas, New Year's Eve or even a college bowl game, the end of one year and the start of the next is when friends and family gather together to enjoy each other's company. For all of those occasions, his holiday punch is a flavorful addition. The basic clove and cinnamon spiced recipe is a family friendly drink for adults and children alike. But, you can add a little extra flavor and bubbles with sparkling apple juice or make it for just for the adults with some spiced rum. For a holiday toast, a little champagne can also add a nice touch. However you make it, though, this punch will be a welcome addition to your celebration.

Holiday Punch
makes about 3 1/2 quarts without sparkling apple juice or alcohol

Ingredients

1 cu Sugar
1 1/2 cu Water
30 Whole Cloves
3 Cinnamon Sticks
1 cu Lemon Juice
4 cu Orange Juice
4 cu Cranberry Juice
3 cu White Grape Juice
2 Lemons, thinly sliced
1 lg Orange, thinly sliced

Optional Additions (described below)

Non-Alcoholic Sparkling Apple Cider, or
Champagne, or
Captain Morgan's Spiced Rum

Method

Put sugar, water, cloves and cinnamon sticks into a medium saucepan over high heat and bring to a boil. Stir until sugar has dissolved. Reduce heat to medium-low and simmer for 45 minutes. Remove from heat and cover for 45 additional minutes. Strain out cinnamon and cloves and set spiced simple syrup aside to cool completely.

Place lemons and oranges in a large bowl. Add syrup, lemon juice, orange juice, cranberry juice and white grape juice. Stir to combine. Cover with plastic wrap, or put in a sealable container, and refrigerate for 2 hours. Serve in a large punch bowl. Add ice to each serving glass if you like.

Alternatives

To add a little effervescence to each serving, fill 2/3 of a glass with punch and top with chilled, non-alcoholic sparkling apple cider.

For adults only, and for a celebratory toast, fill 1/3 of a tall glass or champagne flute with chilled champagne. Fill remainder of glass with punch and garnish with a lemon wedge.

As a final alternative, also for adults only, add 1 1/4 cups spiced rum to the punch bowl and mix thoroughly. Ladle into serving glasses.

If you have any questions or comments, please send me an email at wayne@waynesweekend.com or follow me on facebook.