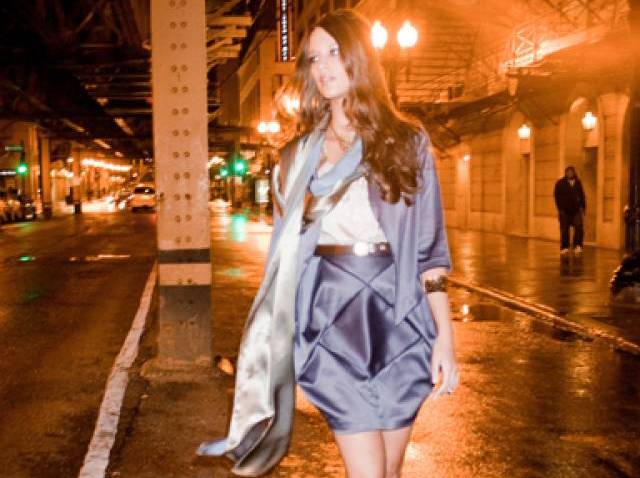 Chicago native Cynthia Ryba has a full-time day job, but what's getting her noticed is her afterwork hobby: making sexy, sexy dresses.
We talked to the Chicago native about her work, becoming one of six local designers in the Chicago Fashion Incubator at Macy's on State St., and the must-have pieces for this season.
How did you get into the biz? Did you always know this is what you wanted to do?
It wasn't until I took a high school sewing class that I knew fashion was for me. Since then, I earned a degree in Fashion Design as well as gained vital experience on the retail and buying side of the industry, working for companies like
Nordstrom
and Claire's Accessories.
So how does a girl get their hands on your clothes?

My current collection is really geared towards that woman who has an insanely productive and busy schedule. I draped, drafted, and did all the pattern work myself on these samples. I also fitted each piece to me as well as a fit model. Since I am starting my business more custom design-focused, I then schedule appointments with clients for private showings of my collection (at my showroom space at Macy's). From there, an order is placed, a fitting is scheduled with the client, and my seamstresses and I will produce the garment. The whole process is more personal, more relational. I will be taking private appointments for this collection after Fashion Focus in late October.
What makes you unique as a designer?
I'll never create a piece I wouldn't personally wear myself, and I think that is where many female designers go wrong. They have their own clothing line, but when you see them out, they prefer to wear someone else's clothes. I never understood that.
Where does your inspiration stem from?
As of late I'm much more inspired by the character and strength of people, rather than a visual reference. This season I've been inspired a lot by women who have a lot on their plates such as
Jenny Lumet, (screenwriter of Rachel Getting Married), Marissa

Mayer, (Google exec and one of it's original employees), and most importantly, my sister Melissa, (mother of two).
Anything interesting you think people would love to know about you?
I'm very proud to say that I'm the first college graduate in my family and that my career and life have meandered through some interesting detours. I also want to stress that one doesn't have to have a great start to have a great finish!
What is the biggest compliment you've gotten so far through your designs?
I'd say the fact that other clothing designers (whom I respect) have complimented me on my pieces. That makes me feel good.
What is one piece for fall / winter from your collection that every girl needs to have?
Do I have to choose just one? Ha ha! Probably the Waiter-style jacket with detachable scarf. You can wear it with my Diamond skirt or with a pair of jeans and a tank (with or without the scarf).
To see Ryba's collection for yourself, check her out during Fashion Focus Chicago, Oct. 22 - 25. She will also be taking individual appointments for private views of her collection at the Fashion Incubator (11th floor at Macy's on State Street) following Fashion Focus. To schedule an appointment, shoot her an email Cynthia@cynthiaryba.com or call 847.989.6979. Visit cynthiaryba.com for more info.