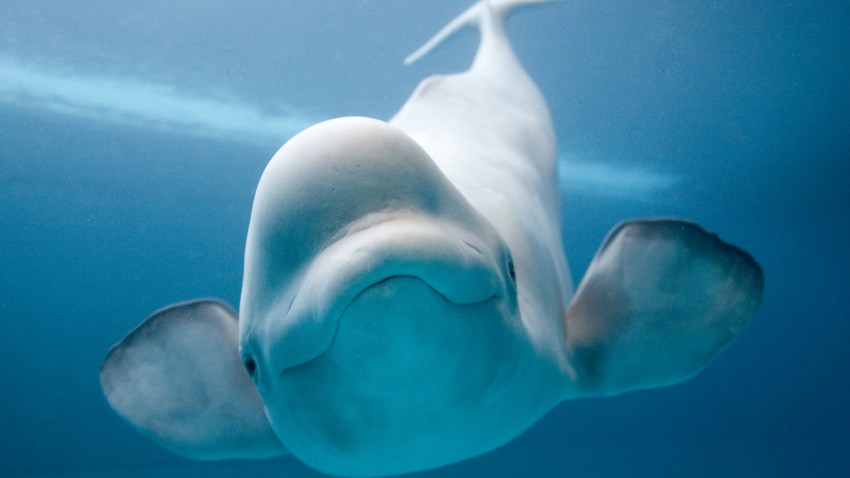 Most zoos and attractions that publicly exhibit live animals warn visitors not to get too close to the creatures.
But for a limited time, the Shedd Aquarium is inviting visitors to get a hands-on experience with their prized Beluga whales.
For $200 per person ($175 for aquarium members), animal lovers can step into the 90,000-gallon, 16-foot-deep pool and meet one of the whales. Participants must be at least 10 years old and at least 5 feet tall.
A senior keeper guides the visitors' encounter, showing how to pet, nuzzle, and gently bump heads with the playful whale. People are even invited to reach inside the mouth and rub its tongue, something the 1,000-pound animal really enjoys.
"This isn't anything new for the whales," Ken Ramirez, the Shedd's senior vice president for animal collections, told the Tribune. "Everything they do with the guest encounters are things they do in their everyday training sessions, demonstrations of natural behaviors."
"The difference is that they usually do it with keepers they know very well, and here they do it with strangers," he continued. "It seems to be fun for them."
In fact, the whales often act like big, aquatic puppies, craving attention and, of course, treats.
To make sure the whales are not overwhelmed, the "Beluga Encounter" program is only offered once on Tuesdays and twice on Fridays and Saturdays. Only 3 to 6 people participate in each 30-minute session. Visitors also spend about an hour with trainers before the encounter, learning how to properly behave around the whales.
Matt Bartosik, editor of Off the Rocks' next issue, also enjoys being petted and given treats.
Copyright FREEL - NBC Local Media