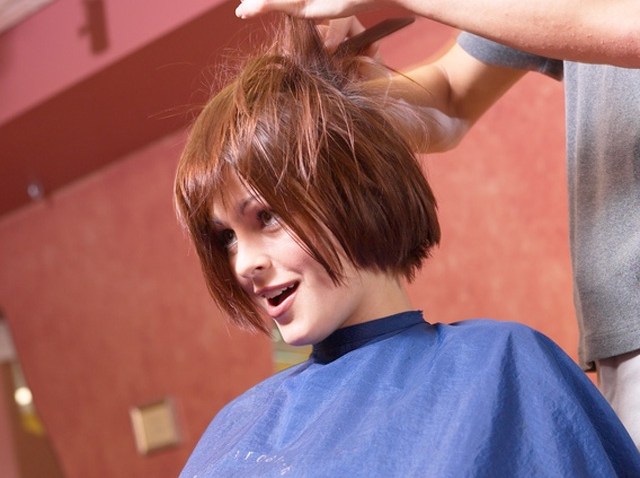 Finding a good salon is like finding the perfect pair of black stiletto boots. The search is painful -- trying on style after style -- but in the end, it fits perfectly.

Such is the case when you stumble (probably because of those senseless stilettos) into Red 7 Salon (210 W. Kinzie St).

After climbing a fantastically cartoonish set of stairs, you realize that Red 7's part whimsical, part rock 'n' roll, part David Mamet Chicago, and a large part, Alice in Wonderland. You'd half expect the tea (which the very friendly staff brews for clients) would bear a sign reading 'Drink Me.'

First things first -- Red 7 uses high quality Bumble & Bumble product. However, the quality of the product is secondary to the scalp massage. This is not the obligatory scratch-client's-head-for-17-seconds-to-make-the-customer-feel-good scalp massage. This is a complimentary, very thorough service that they offer to all clients. (Another comp service: easy check out. Pay from your chair and walk out the door.)

Now that you're wet and clean, make your way to David's chair. David is one of the very few stylists (and co-owner of the salon) who actually cares what the client wants. "Trim or cut? Layers or not? Bangs or wisps?" And at the end of your haircut (after stimulating conversation that could range from color guards to dating to Chicago architecture, and a complimentary, hot lotion hand massage), guess what? He listened. Your hair is no shorter than you wanted it, no more layer-y, and no more bang-y. It's what you asked for. Plus, chances are, you made a new friend.

You're now ready to take on the town -- or the Red Queen. Whatever happens first.

Erica Bethe Levin is embracing her new bang job as she edits and writes for CheekyChicago.com.