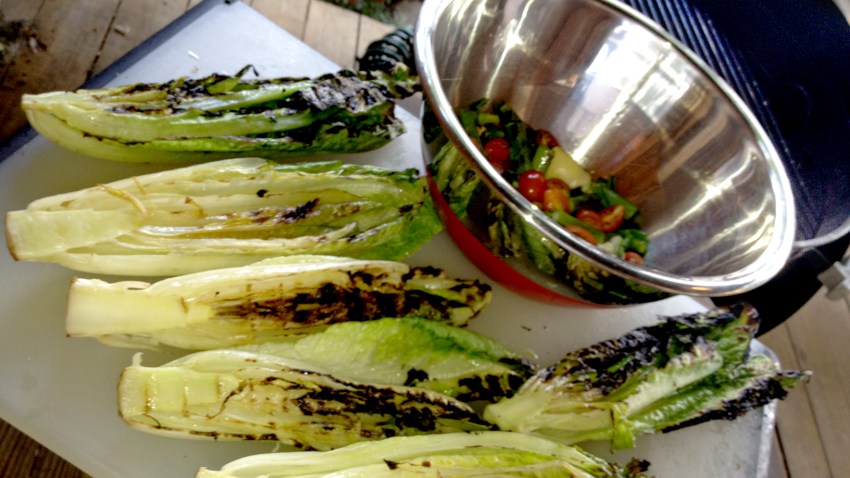 It's grilling season and I'm looking forward to a lot of burgers, brats, steaks, and more coming hot off my grill. But, I also enjoy experimenting on the grill and trying some some lighter fare as well. I was recently in Tiburon, California, and my friend, Azi Najafi, prepared a very tasty grilled salad for dinner one evening. Her salad had a combination of greens, including radicchio and baby lettuce. I'm actually a big fan of romaine lettuce, so I decided to vary the recipe a bit. If you read my note at the end of this recipe, though, you'll see there are a lot of options you can explore when you make this for one of your summer meals.

Grilled Salad
courtesy of Azi Najafi
four servings

Ingredients

Salad

3 lg Romain Hearts, I purchase the three pack, about 18oz size
1 can Large Artichokes Hearts, I purchased the 6-8 count size, 14oz can
1/2 of a bunch of Asparagus (about 9 oz), medium thickness, cut into 1" pieces
3 Green Onions, trimmed and chopped in 1" pieces
1 cu Grape Tomatoes, sliced in half
2 tbl Olive Oil
4 oz Shaved Parmiggiano-Reggiano
Salt & Pepper

Dressing

1 tbl Shallots, finelly minced
1 tbl Dijon Mustard
1 tbl Lemon Juice
zest of 1 Lemon
2-3 tbl Olive Oil
Salt & Pepper, to taste

Method

Prepare your grill so that the surface is very hot. Because temperatures vary greatly with grills, the times below are meant to be more of guide. Monitor everything closely.

Slice the Romain lengthwise. The root end should keep the leaves together. Brush the cut surface with some of the olive oil. Place the cut side down on the grill and char the surface of the romaine for about 2 to 3 minutes. Be careful not to keep it on the grill too long or the leaves will wilt. You want a nice crunch to most of the lettuce and a good char on the the cut side. Remove from the grill and set the romaine aside.

Slice the artichokes in half and place them in a bowl. Add the asparagus, green onions and tomatoes. Pour the remaining olive oil over vegetables and toss to combine. Place a grilling pan or mesh screen on the grill and add the vegetables. Grill the vegetables until they are just tender and have a slight char, about 2-3 minutes, tossing while grilling. Remove from the grill and transfer to a large serving or salad bowl.

Slice off the root end of the romaine and discard. Roughly chop the rest of the leaves crosswise and add to the other vegetables.

Meanwhile, place shallots, mustard, lemon juice and zest in a medium sized bowl. Whisk together the ingredients while slowly pouring 2-3 tablespoons of olive oil over the mixture. Season with salt and pepper and pour over the vegetables. Toss to combine, check for seasoning, and then top with shaved parmesan to serve.

Variations

This recipe makes a great vegetarian appetizer or first course. You can vary the greens a bit with endive, radicchio, green leaf lettuce, red leaf lettuce or a combination of any of them. Experiment and you'll get a different flavor each time.

For an entree salad, you can grill one chicken breast per serving, thinly slice it after grilling and add it to the salad. Croutons make a nice touch as well.

Thanks again to Azi Najafi for this great recipe. It'll become a permanent part of my summer dining.

If you have any comments or questions, please send me an email at wayne@waynesweekend.com or follow me on Facebook or Twitter.