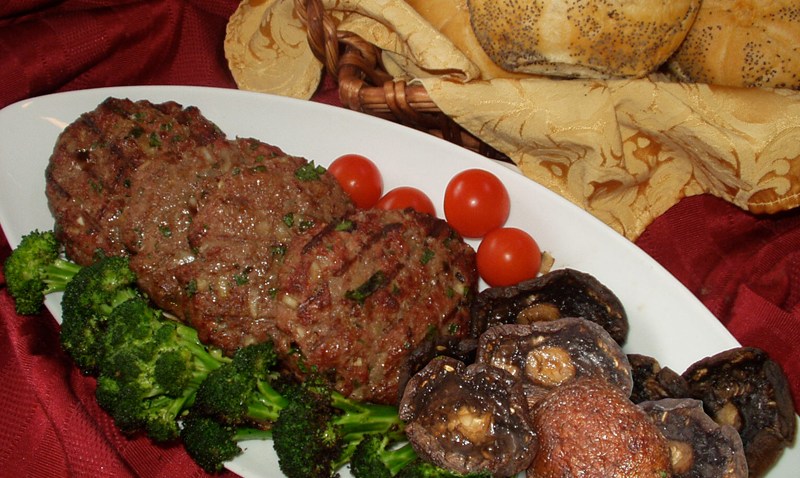 With Father's Day around the corner and happening, as always, right in the middle of grilling season, what better way to celebrate dad's day than with a big meal that includes a gourmet burger and hearty side dishes right off the grill.

My recipe for the Portobello mushroom burger includes a homemade tomato sage sauce and uses my own grilling spices that I've shared with you in the past. The recipe is for four 1/3 pound burgers. But, double it or triple it if you're have a big group over for dad's big day.

The link for the spices is listed below. Check it out and plan on making all four versions. Keep them handy throughout the grilling season….they are great on everything!

Blue Cheese Portobello Mushroom Burger with Tomato Sage Sauce

Ingredients

1 lb Ground Sirloin
1/3 lb Ground Beef, 80%-85% lean
1/4 cu Flat Leaf Parsley, finely chopped
1 1/2 tbl Wayne's Grilling Spice Mix for Beef*
1/2 cu White Onion, finely chopped
4 med Portobello Mushrooms
1 tbl Olive Oil
4 oz Blue Cheese
Green Leaf Lettuce
1/4 cu Flat Leaf Parsley, roughly chopped for garnish
4 Burger Buns

Method

Prepare your grill.

In a large bowl, combine the ground sirloin and ground beef. Add the parsley, grilling spices, onion and mix well. Divide mixture into four equal portions and form into patties. Don't compress the meat too much (just enough for them to keep their shape). Set aside.

Separately, take each Portobello mushroom cap and dig out the black fins on the underside with a spoon and discard. Trim the stem if it's long. Rub the top and bottom of the mushrooms with olive oil.

Grill burgers to your desired doneness. Meanwhile, grill the mushrooms until tender, about 4 minutes per side.

Serve each burger on a roll with green leaf lettuce topped with tomato sage sauce (recipe below), a Portobello mushroom, crumbled blue cheese, and fresh parsley.

This burger is great served with a baked potato and fresh grilled vegetables like asparagus or broccoli.

*the recipe for my spice mix for beef (as well as ones for chicken, fish and pork) is available online at this link: http://www.nbcchicago.com/station/as_seen_on/Homemade-Grilling-Spice-Mixes-Let-The-Grilling-Season-Begin.html

Tomato Sage Sauce

Ingredients

1 tbl Olive Oil
3 Cloves Garlic, minced
1/3 cu Yellow Onion, minced
2 tbl Fresh Sage, chopped
1 can Peeled Tomatoes, 14.5oz size
2 tsp Brown Sugar
2 tsp Balsamic Vinegar
3 tbl Grated Parmesan Cheese
1/2 Black Pepper

Method

Saute garlic and onions in a medium saucepan over very low heat until translucent, about 5 minutes. Transfer ingredients to a blender. Add remaining ingredients and puree until smooth. Pour ingredients back into saucepan and sauté over medium heat for about 20 minutes until sauce has been reduced by half and thickened. Remove from heat and allow to cool. Transfer to an airtight container and keep in the refrigerator until ready to use.

If you have any questions or comments, please send me an email at wayne@waynesweekend.com.