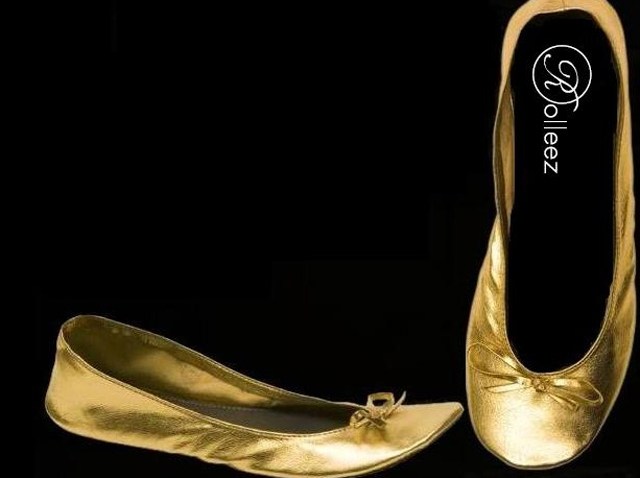 After a long day at the office (or perhaps a couple hours on the dance floor), a lot of girls would give anything (and we mean anything) to ditch those Louboutins for, well, a foot rub. But how about we avoid situation altogether, shall we?
Don't be dismayed by the Toys R' Us title, Rolleez are the chicest ballet flats to have danced onto the fashion scene in a while.
True to their name, they literally roll up into a tiny, inconspicuous little ball, so you can easily toss them in your tote, carry them in your clutch and are the perfect style solution to those long days on those pretty, achy feet.
The design team behind Rolleez hasn't missed a single step when it comes to the packaging. They're delivered in an adorable, polka-dot box that can be re-used for other girly accessories. You also get a sweet little tote bag to stash those Louboutins in. How thoughtful.
The ballet flats come in a variety of colors including pink, black, metallic silver and gold. They are lightweight, comfy and, most importantly, super stylish. Made with water-resistant and skid-resistant soles, women across Chi-town now have something else to get excited about as spring approaches besides their open-toe heels and spring flats: a shoe that caters to style, comfort and convenience.
Rolleez cost less than 20 bucks and can be found at www.myrolleez.com.
Jessica Zweig is the co-founder of CheekyChicago.com.