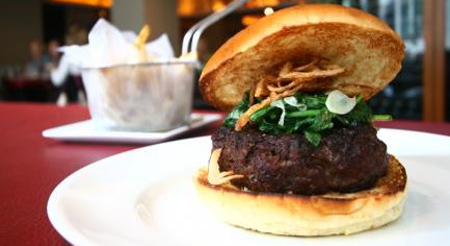 Let's face it. That Quarter Pounder Value Meal may be quite filling, but it's not exactly the most quality grub around.

It's time for a new kind of burger fix, and this week's the perfect time to check out the acclaimed Burker Burger at David Burke's Primehouse (616 North Rush).

The 40 Day Dry Aged Burker is only $5 through Nov. 13 (dine in lunch only), a steep discount from its regular $15 price tag.

But the burger madness goes beyond the beef, with specials on the Pastrami Burger ($7), Angry BBQ Chicken Burger ($5), and the Shrimp and Chorizo Burger ($9).

Go all out and make it a "Big Poppa Burker" by adding toppings such as Lobster Slaw, Oscar (crab, asparagus and hollandaise), Angry Shrimp and a fried egg, or kick it up even more with sides like the Truffle Asiago Fries, Tempura Beans with teriyaki sauce or the new Salt & Vinegar Chips.

After all, that other restaurant may love to see you smile, but when you're wallet and your stomach are this happy, we feel a full-out grin coming on.

Reservations are strongly recommended.