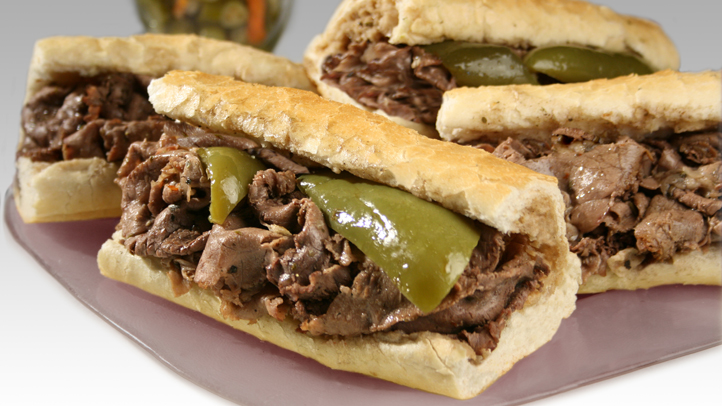 The following content is created in consultation with Portillo's. It does not reflect the work or opinions of NBC Chicago's editorial staff. To learn more about Portillo's, visit Portillos.com.

It's hard to imagine that Portillo's—the largest privately-held food chain in the Midwest and makers of America's tastiest Chicago Style hot dog and Italian beef sandwich—has such humble beginnings.
Now you can get the story behind the bun when NBC 5 Chicago airs "Portillo's: 50 Years in the Making" on Saturday, December 7 at 6 p.m. The show captures how Dick Portillo, president and founder of Portillo's, parlayed the $1,100 that he and his wife Sharon had been saving for their first home into the largest and most unique privately-held food chain in the Midwest employing over 4,000 people. The half-hour documentary chronicles Dick's rags to riches story, from a childhood in government subsidized row houses to establishing his first location—a 6' x 12' trailer without running water or a bathroom called The Dog House—in 1963.
Today, The Portillo Restaurant Group has over 50 businesses—concepts include 38 Portillo's Hot Dogs with locations in Illinois, California, Arizona, and Indiana, nine Barnelli's Pasta Bowls, Luigi's House Italian Restaurant with Julian's Piano Bar, two Honey–Jam Cafes, Portillo's Home Kitchen including catering and shipping divisions, two Portillo's food service commissaries and two shopping plazas.
But even though the Portillo's empire has grown, you can still expect the same cleanliness, attitude, service and quality at each and every location, thanks—in a large part—to a highly trained staff.
Which makes Portillo's and all of its concepts very popular. Portillo's Hot Dogs is so popular that today it serves up 130,000 pounds of Italian beef and 35,000 pounds of Vienna Beef hot dogs in a single week. Portillo's shipping division brings select menu items including: hot dogs, Italian Beef, ribs, and tamales to 50 states which (along with gift cards) can easily be ordered on line at Portillos.com/store. And, Portillo's Home Kitchen is the restaurant group's fast-growing catering and shipping division. It offers award winning family recipes, products of renowned quality and provides unparalleled service. Portillo's Home Kitchen catering division serves famous Italian beef, fresh pasta trays, gourmet salads and award-winning bar-b-q ribs. Boxes of Italian beef, hot bar-b-q ribs and tamales are available for shipping to all 50 states. Menus and phone numbers for catering are available at Portillos.com/catering.
To learn more about Portillo's history, tune in to "Portillo's 50 Years in the Making" on NBC Saturday, December 7 at 6 p.m.. And be sure to head to one of their many locations for a tasty meal and friendly, unrivaled service. Visit their website for a list of locations.