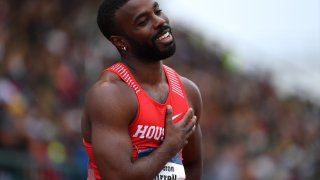 Track and field star Cameron Burrell's death has been ruled a suicide.
The late athlete, who was an NCAA Division I champion and ran track and field for the University of Houston, passed away on Monday, Aug. 9. According to the Harris County Institute of Forensic Sciences' records, Burrell suffered a fatal gunshot wound of the head. He was only 26 years old.
Burrell's father and head coach of the Texas-based college, Leroy Burrell, also confirmed his death in a statement shared with E! News on Friday, Aug. 13.
"On Monday evening, our family's hearts were broken with the passing of our son, Cameron, who took his own life," his message read. "We may never know why Cameron made such a decision. We encourage anyone who may be struggling in their lives to reach out for help."
Leroy, who is an Olympic gold medalist, added, "You are not alone, and you are surrounded by more people who love and care for you than you may think in a dark moment."
Celebrity Deaths: 2021's Fallen Stars
Earlier this week, the University of Houston head coach confirmed his son's death in a statement shared with the college's track and field page.
"My family is extremely saddened with the loss of our son, Cameron, last night," Leroy said in a statement on Tuesday, Aug. 10. "We are going through profound sorrow and ask that all of our friends, extended University of Houston family and the track and field community in the U.S. and abroad allow us to gather with our closest family and friends."
He concluded, "We are profoundly grief stricken, and thank everyone for the outpouring of prayers and support. We will forward more information when it is available."
Many of the university's staff spoke out about Burrell's death, including University of Houston President, Renu Khator.
"The University of Houston is devastated by the unexpected passing of alumnus Cameron Burrell," Renu previously said in a statement to E! News. "We offer our sincerest condolences and support to the Burrell family and all who knew him, including Cameron's many friends, coaches and teammates."
Khator added, "Cameron was a treasured member of the Cougar family. His work ethic and persistence were a testament to his character. We are heartbroken and will miss him greatly. During difficult times, we ask members of the UH community to support one another."
The Vice President for Athletics, Chris Pezman, also offered his condolences, per a statement on the university's site.
"Words cannot express how we feel for Leroy, Michelle and their family. Cameron grew up around the Houston Athletics Department, worked hard and developed himself into one of our greatest Track and Field stars," his message read. "To lose him so suddenly is tragic. We ask all University of Houston and track and field fans to keep Coach Burrell and his family in their thoughts and prayers."
Cameron's aunt, Dawn Burrell, who is also an Olympian and Top Chef star, expressed her heartache on Instagram.
"Right now, my heart is broken into a million pieces," she wrote. "I lost my nephew last night. He was also son and a father. He was so amazing and so troubled. I did not know how much so...Rest in the glory that was already yours nephew. You have always been greatness personified. I don't know what I'm gonna do without you."
According to the University of Houston, Burrell competed for his father and ran track and field from 2013 to 2018.
During his final year as a Cougar in 2018, Burrell won the NCAA individual national championship in the 100-meter run. In addition, he helped the Cougars' 4x100-meter relay team earn the NCAA national victory that same season.
Copyright E! Online