National resort chain Great Wolf Lodge could soon take over Gurnee's Key Lime Cover Waterpark Resort.
The lodge, known for its popular Wisconsin Dells location, confirmed to NBC Chicago the possibility of coming to Gurnee "is of great interest to us."
"We hope to continue to working together with the village to evaluate the opportunity to bring a Great Wolf Lodge family resort to the area," the resort said in a statement.
See Inside: Mary Tyler Moore House for Sale in Minnesota
Gurnee officials voted Monday night to approve a deal that would provide up to $18 million for the resort to move to town, the Daily Herald reported.
"It's very exciting for Gurnee to be able to attract such a prestigious and nationally recognized brand to the village," Mayor Kovarik told NBC Chicago in a statement.
Kovarik noted the deal is not final yet, but officials hope to soon bring it to a "successful close."
Under the agreement, the largest family of indoor water parks in the US would get a portion of the tax revenue paid to the resort until 2029.
The Chicago Tribune reports Key Lime Cove, located off I-94 at the Grand Avenue exit, is "underperforming," netting the village roughly $400,000 per year on average in hotel and resort taxes.
Chicago's Historic Wrigley Mansion Listed for $7.15M
The village's deal with Great Wolf would replace its current agreement with Key Lime.
If the sale goes through, city officials told the Tribune Key Lime would likely close in the spring. Great Wolf would then do renovations for possibly a year with hopes of opening for spring break 2018.
No dates were confirmed as of Thursday though, the publication reports.
Key Lime Cove's 30-acre property currently features a 65,000-square-foot tropical-themed waterpark, a series of restaurant concepts from Dave Anders, the creator of Famous Dave's, and 414 guest rooms, among other things.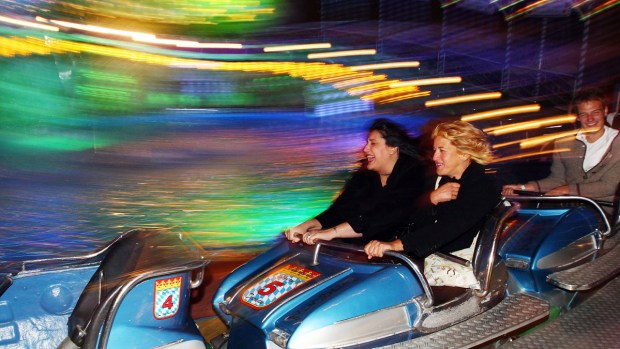 Iconic Theme Park Rides From Around U.S.