It was the final day of campaigning ahead of Election Day.
The candidates running for office made stops at train stations, diners and airports on Monday.
Illinois' gubernatorial candidates traveled statewide on the last day to appeal to voters ahead of Tuesday.
Democratic Gov. Pat Quinn started his morning greeting voters and having breakfast at Nuevo Leon. Other morning stops included the Chicago Transit Authority's 95th Street Station and the Quinn for Illinois South Side field office before he headed to Rockford for a rally at the Rockford Airport.
At 1:30 p.m., Quinn was scheduled to attend a rally at the Peoria International Airport before heading to Savoy, Marion, East St. Louis, and Springfield. He'll be back in Chicago by 8 p.m. for a rally at the Quinn for Illinois Headquarters, at 676 N. LaSalle St.
Republican Bruce Rauner spent his Monday morning greeting voters at Lou Mitchell's Restaurant, at 565 W. Jackson Blvd.
"Tell your friends to get out and vote," he said. "That's what matters."
From there, he was scheduled to appear with former Republican Gov. Jim Edgar at a 10 a.m. rally in Bloomington, a midday rally in Springfield, a 2 p.m. rally in Moline, and a 4 p.m. rally in Rockford.
The pair will be joined by U.S. Sen. Mark Kirk for a 7 p.m. rally at Adlai E. Stevenson High School in Lincolnshire.
Quinn and Rauner on Sunday made appearances at churches across Chicago for some last-minute campaigning.
Also facing re-election is Democratic U.S. Sen. Dick Durbin of Springfield with a challenge from Republican state Sen. Jim Oberweis of Sugar Grove.
A number of congressional matchups, including in Chicago's suburbs, are also contested.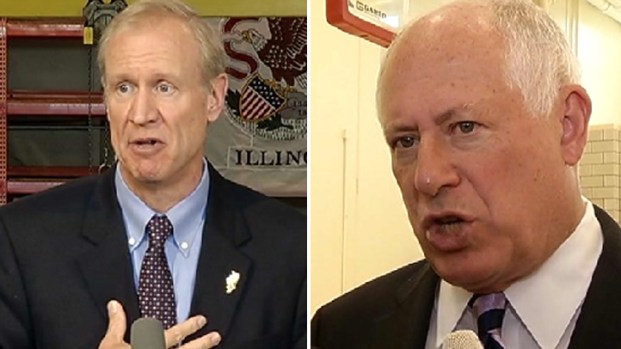 Illinois General Election Guide 2014