As the new legislative session opened Wednesday under a Republican governor, Democratic leaders urged bipartisanship while at the same time sending a clear signal that they're going to advance their own priorities, including raising the minimum wage and increasing funding for schools and social services.
House Speaker Michael Madigan and Senate President John Cullerton also indicated they'll let Gov. Bruce Rauner take the lead — at least initially — on the state's single biggest headache in the year ahead: the expiration of a temporary income tax increase and the resulting multibillion-dollar revenue loss for current and future budgets.
Madigan suggested that the state's first divided government in more than a decade means a more active role for Republican lawmakers.
"I wish to welcome you back — back to the active participation of state government," he said during a House swearing-in ceremony at the University of Illinois-Springfield. He noted that previous years' budgets have been passed with only Democratic votes, saying "there will be many difficult roll calls up ahead."
Rauner has not yet provided specifics on how he plans to fix Illinois' budget mess, though he says he'll be ready to give his budget address on Feb. 18. Democrats say they're waiting to hear what he has to say before presenting their own ideas — possibly putting Rauner in the position of being first to propose either raising taxes or slash spending.
Democrats control both chambers of the Legislature, with enough votes to override any Rauner veto.
Even before Wednesday's opening of the 99th General Assembly, both sides said they were staking out their respective sides. Last week, a special session led to a special election in 2016 for comptroller, halving the length of time for Rauner appointee Leslie Munger to fill the vacancy created when Judy Baar Topinka died last month. And Rauner earlier this month expanded his campaign war chest by more than $20 million, which he could use to support the campaigns of loyal Republican lawmakers.
At a swearing-in ceremony in the Senate presided over by the new governor, Cullerton pledged to work with Rauner and legislators of both parties.
Cullerton said he wants to collaborate with Rauner to make opening a new business less cumbersome, noting some companies have to file paperwork with as many as a half-dozen state agencies before opening their doors.
"The people we represent want us to solve problems, improve the quality of life and open doors of economic and educational opportunity for their families," he said. "I trust everyone is up to the challenge."
While bipartisan and cooperation were the day's buzzwords, Madigan and Cullerton made it clear that core Democratic platform items will play a major role in this session's agenda.
Cullerton renewed a call for increasing the minimum wage, an idea a majority of voters supported in a nonbinding referendum last fall. Rauner has said he supports raising the wage from $8.25 to $10 per hour only if it's accompanied by pro-business reforms.
"The same voters who sent us here want a higher minimum wage in Illinois," Cullerton said. "It's time to deliver."
Madigan stressed the importance of protecting the state's vulnerable residents, both financially and through social safety-net programs, calling for a bipartisan task force to work with mental health professionals to prevent repeats of school shootings like in Newtown, Connecticut, in 2012.
The day put some Republican lawmakers in an optimistic mood, following years of Democratic control and a bruising gubernatorial campaign.
"I've definitely seen it work in the past," Republican state Rep. Don Moffitt, now serving his 12th term, said. "We don't need any finger-pointing about how we got here. We just need to look at how we can make progress going forward."
Governor Bruce Rauner Moves Into Springfield Executive Mansion
Rauner's Inaugural Address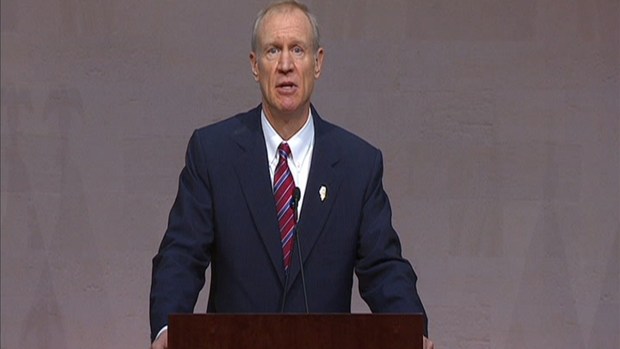 Rauner Takes Oath of Office