RAHM EMANUEL, EVEN (DOWN): Emanuel finally flashed his famously thin skin. When Gery Chico criticized the proposed "Rahm Tax" on limo rides and gym memberships, he pranked Chico's events by sending protestors and a truck blasting the Lovin' Spoonful's "Did You Ever Have To Make Up Your Mind?" Still running a Miss America-type campaign of press conferences and photo ops, while refusing to take questions from voters. Skipped the Union League Club forum on Wednesday: his three opponents made it, despite the blizzard. In my conversations with Chicagoans, I'm getting the impression that everyone expects Emanuel to win, but few like him. Talked to a man last weekend who hates the public employee unions but won't vote for Emanuel because "every other word out of his mouth is mother[bleep]. It's embarrassing to have a mayor like that."
GERY CHICO, 2-1 (UP): Chico finally found an issue that put him in the headlines -- the so-called "Rahm Tax" -- and Emanuel helped keep him there with the aforementioned political theater. As Progress Illinois pointed out, a levy on services is actually a fiscally responsible idea, but the voters are taxed out after the legislature raised the income tax. Chico was also the first candidate to respond to Snowpocalypse 2011, pushing cars out the snow and shoveling in Logan Square the next morning. That reinforced his image as the technocrat who knows how to work The City That Works. Unfortunately, the blizzard probably killed his scheme to bring the Super Bowl to Chicago.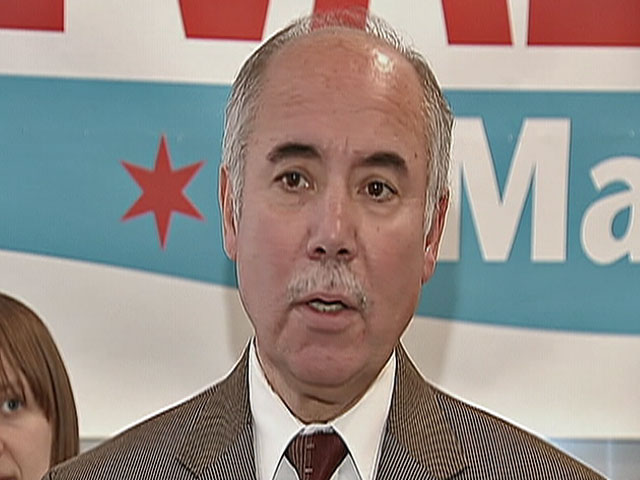 MIGUEL DEL VALLE, 20-1 (NO CHANGE): Del Valle raised his campaign's profile with a passionate performance in last week's debate, but when the snow began falling … he still wanted to debate. On Tuesday, issued a press release on homelessness. Used Snow Day to make phone calls to homebound voters and speculate on whether the snow-clearing costs would require a supplemental budget appropriation. Should have released photos of himself shoveling out his own alley, like Chico and Emanuel, but del Valle shuns that kind of grandstanding the same way he shuns raising money. Del Valle is the anti-Rahm: his supporters adore him, but nobody expects him to win.
CAROL MOSELEY BRAUN, 100-1 (DOWN): Moseley Braun watched what little remained of her political career go up in a puff of smoke after she called rival Patricia Watkins a "crack addict" -- in a church! After insisting she'd been provoked, and didn't want voters to think she was a punk, Moseley Braun apologized -- a first in her controversial career. Watkins had demanded the apology, but then refused to accept it, instead calling on Moseley Braun to drop out of the mayor's race on account of her "volatility and insensitivity." Not even ethnic loyalty can save Moseley Braun: many blacks see voting for Emanuel as a way to help President Obama.
PATRICIA WATKINS, 150-1 (UP): Finally got some publicity after Moseley Braun called her a crackhead. Even the Sun-Times showed up at her next press conference. Should have accepted her apology.
WILLIAM "DOCK" WALLS, 300-1 (DOWN): Will ask Moseley Braun to call him a meth addict during next debate.
ED BUS, 10,000-1 (NO CHANGE): No money, no past history of drug use, no spot on the ballot. No chance!