Mayor Rahm Emanuel came out on top in Tuesday's election, but several of his key supporters in City Council did not.
In one of the most contentious races, Ald. Ray Suarez, who has held the 31st ward seat for 24 years, trails his opponent Milly Santiago by just 131 votes. The results are not yet official, but it appears the alderman, who is also vice mayor of the city, will be out of a job.
19 Chicago Aldermanic Races Go to Runoff
Suarez is an Emanuel supporter who was backed by the mayor's "Chicago Forward" campaign. Santiago, on the other hand, said she would join the Progressive Caucus in City Council.
The 10th ward on the Far Southeast Side experienced a similar runoff election. Emanuel supporter and incumbent Ald. John Pope was neck-and-neck with his opponent Susan Sadlowski Garza, but he ended up falling by 44 votes.
Pope is a known supporter of the mayor, and Sadlowski Garza was aligned with Jesus "Chuy" Garcia. Vermont Sen. Bernie Sanders endorsed Sadlowski Garza and Garcia shortly before the election during a trip to Chicago, further cementing their alignment.
Four other aldermen suffered similar losses in the election. Ald. Natashia Holmes (7th), Ald. Lona Lane (18th) and Ald. Deborah Graham (29th) were all incumbent aldermen who supported the mayor and then lost to their challengers.
WATCH: Mayor Rahm Emanuel's Victory Speech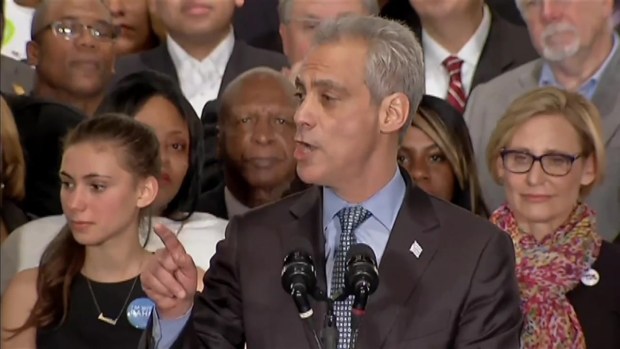 If Santiago officially wins in the 31st ward, that will make almost one-third of the aldermanic runoff elections failures for the Emanuel campaign.
One of the mayor's biggest faults in his campaign was his failure to get on the level of the neighborhoods, at least in the eyes of many of their residents. The aldermanic races are central to neighborhood issues as the aldermen deal directly with residents in the community in the way that a mayor cannot (or usually does not).
Although Garcia could not win the election, his community ideals were apparent in the aldermanic races. And those ideas will stick around to haunt -- or help -- Emanuel as the new faces of City Council prepare to vote against the mayor.