There are only two things preventing Alderman Ed Bus from becoming the next mayor of Chicago. He doesn't exist, and neither does the 53rd Ward he represents.
Bus is the creation of Justin Kaufmann, of the comedy troupe Schadenfreude, which often appears on WBEZ. A caricature of a North Side machine hack, he wears a hard hat and growls in an exaggerated Chicago accent. His ward, much re-mapped over the years, now consists of the island at the intersection of Damen, Elston and Fullerton. He carries a bag of Quik-Rete in the trunk of his car, to repair potholes, and oversees the curriculum at Dennis Farina Middle School, his ward's educational jewel.
Until this week, Bus was a star of stage and YouTube, rap battling with Rhymefest on The Interview Show at The Hideout, and hosting real-life Ald. Scott Waguespack at Schadenfreude's Rent Party.
But now, Bus has made the big leap into public access television. He crashed CAN-TV's "Chicago Newsroom." Around 22 minutes into the show, as host Ken Davis and Chicago Reader staff writer Ben Joravsky prepared to discuss Rahm Emanuel's campaign, Bus blundered onstage, declaring he was early for his own show, "Ward Issues."
"I've been alderman for 40 to 45 years," Bus declared. "I'm the only alderman on record who's voted for Mayor Daley's initiatives every time, and people respect that."
Then Bus announced he's introducing an ordinance to change the Pledge of Allegiance with a pledge to the Daley family.
"I'm subservient in a good way," he said. "I'm not paid $110,000 a year to think. I'm there to make Daley look good. I'm running for mayor on a platform of 'Keep It Like It Was.'"
When Davis asked Bus about Tax Increment Financing, he responded, "I don't know anything about it. If the mayor says it's good, it's good." He shot a look at Joravsky: "Then you write a 19-page story about it."
When the topic finally came back to Rahm Emanuel, Bus had warm words for the mayoral candidate.
"Rahm Emanuel owes a lot to Ed Bus," Ed Bus said. "I was the one who said, 'Give this kid a chance. He's got a weird name. When he was running for Congress, I had a couple of my guys help him out."
Still, Bus is running his own campaign.
"Vote for Mayor Daley, even if he's not running," Bus shouted. "And vote for Ed Bus!"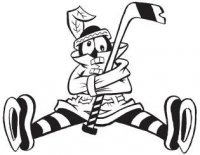 Sam Fels is the proprietor of The Committed Indian, an unofficial program for the Blackhawks. You may have seen him hocking the magazine outside the United Center at Gate 3. The program is also available for purchase online. Fels is a lifelong 'Hawks fan and he also writes for Second City Hockey .
Published at 2:12 PM CST on Dec 29, 2010 | Updated at 2:15 PM CST on Dec 29, 2010