It's the easiest story to write because it's so obvious, but it cannot be ignored that the Blackhawks return to the Comcast/Wachovia/Wells Fargo/Whatever-It-Is-This-Week Center for the first time since that little incident on June 9th, 2010.
Even for those at home watching, the combination of the Hawks white, Flyers orange, that ice surface, the memories will probably come flooding back.
Problem is, it'll come back for a fair amount of the Flyers too. And they won't be pleasant.
There are still a fair number of players on that team who suffered the biggest defeat they've ever known, so they'll have something of motivation going.
However, the biggest problem the Hawks would have had with Philly, and did back in that spring, is not in the lineup, nor will he be for the season. Chris Pronger is out for the year with concussion problems because even the Flyers take that sort of thing seriously.
Pronger wipes out pretty much any top line he sees, and without him the Flyers defense has become kind of suspect. You may have seen that blown two-goal lead against New York in the Winter Classic, for example.
However, the Flyers provide many other problems, the first being that their entire forward line is huge and nasty and that's exactly what the Hawks have trouble dealing with.
There are so many guided missiles here you'd think it was a Republican dream of attacking Iran (HEYO!). The first and foremost is Scott Harntell, who murdered the Hawks in that Final. Behind him there's James Van Reimsdyk and Wayne Simmonds and Sean Couturier and Matt Read and on and on.
The Hawks d-men will know certainly they're in a game.
Oh, and the one guy who isn't a tower of bile? Claude Giroux, the league's second leading scorer. This guy was just breaking onto the scene in 2010, and now's he's stolen the whole thing. Even on the road, Coach Joel Quenneville will try and get Dave Bolland out against him, but the way Bolland's line has been playing, that could get ugly indeed.
At least they'll most likely not have to deal with Giroux's linemate Jaromir Jagr, who has osteoporosis or something that will keep him out.
Another test in a week full of them for the Hawks. God knows that crowd will be baying for blood.
How big a set of guts have they got?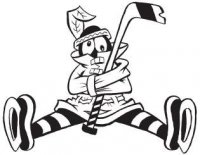 Sam Fels is the proprietor of The Committed Indian, an unofficial program for the Blackhawks. You may have seen him hocking the magazine outside the United Center at Gate 3. The program is also available for purchase online. Fels is a lifelong 'Hawks fan and he also writes for Second City Hockey .
Published at 3:40 PM CST on Jan 5, 2012 | Updated at 3:44 PM CST on Jan 5, 2012