Well, hopefully everyone got the bathtub of Listerine needed to wash out the taste of Tuesday's dry heave against Phoenix. Lucky for the Hawks, there are few squads better to get healthy against than the Islanders, if one is so inclined.
As discussed Thursday, the Hawks will juggle some things up on their lines. Marcus Kruger moves to his natural center position, hoping to play spotter for snipers Marian Hossa and Parick Sharp.
The marketing campaign and bedrock of Jonathan Toews and Patrick Kane are reunited. The other change looking like it's coming Friday is that Ben Smith will replace Bryan Bickell in the lineup, probably on Dave Bolland's wing with Michael Frolik.
This has been coming for some time, as Bickell has been a ghost without the charm of Casper for pretty much a month now. Smith will bring some actual physicality, or at least he'd better or he'll find himself right back in the pressbox.
Smith is also sound defensively, so the checking assingments that go along with playing with Bolland will not be something he should struggle with too much.
Corey Crawford gets the start, and he gets a look at the league's worst scoring team to try and find his game and confidence. The Hawks need him to find it, because a lot of their problems of late have stemmed from shoddy goaltending. Watch how much better the defense looks if Crawford is making the saves he's supposed to, along with one or two he's probably not supposed to. It won't solve everything, but the problems won't look so daunting if he returns to form.
That doesn't mean the Islanders can't hurt you if you fall asleep on them. That starts with their goalie Al Montoya, a local product finally coming good when given a chance. Montoya was a first round pick of the Rangers long ago -- if 2004 is long ago -- and was thought to be the next big thing. He never got a chance in Manhattan thanks to Henrik Lundqvist's rise, and was shipped to Phoenix. There weren't too many open avenues there either, with Ilyz Bryzgalov taking the reins.
Last year, Montoya got a 20-game audition on the Island after they'd run through just about anyone who could physically get on the gear. He was very good, and picked up again this season when Evegeni Nabokov went down. He's got a save-percentage over .930, and is capable of stealing this one if the Hawks aren't focused.
The other player to watch is John Tavares. The No. 1 overall pick three years ago, he's gotten better every year and looks to be a bonafide No. 1 center in this league. His main running buddies are Michael Grabner -- who the Isle plucked off waivers last year after both the Canucks gave up on him and the Panthers didn't think he had a place on their team. He nearly won rookie of the year last year. Matt Moulson has a few 25+ goal seasons to his name as well. Mark Streit is a fine puck mover on the blue line who tore the Hawks apart three seasons ago at the UC, and Travis Hamonic is their building block back there.
But there's a reason the Islanders are the East's wooden spoon holders right now. They've scored nine less goals than anyone, and don't average more than two per game. Their defence can be exposed as it's filled with neophytes prone to mistakes or aged veterans who can't move. If Montoya can't bail them out for 60, the Hawks should flourish. But that was the case with Edmonton, wasn't it?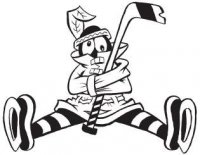 Sam Fels is the proprietor of The Committed Indian, an unofficial program for the Blackhawks. You may have seen him hocking the magazine outside the United Center at Gate 3. The program is also available for purchase online. Fels is a lifelong 'Hawks fan and he also writes for Second City Hockey .