You probably don't even remember it at this point, but three weeks ago in Nashville is where this stretch of incompetence, frustration, and depression started. Maybe it's like the one true ring, and you have to kill it where it was fashioned. Blackhawks fans can only hope so.
We've been over the story with the Hawks, so we'll just do the lineup changes. As Coach Joel Quenneville descends farther into madness, he will dress John Scott at forward Tuesday night ahead of Brendan Morrison and Michael Frolik.
For three minutes, Scott will provide.... nothing. This is not only a dead horse not in need of beating, but I think at this point the corpse has disintegrated into a vapor. So I'll leave it alone.
Ray Emery will get the start in his extended bid to put Corey Crawford out of the misery of the No. 1 job, and our extended misery of watching him do it.
As for Nashville, things have cooled off since they were on that scorching pace that zoomed right on by the Hawks during this streak. They've lost four of five this month, though two of those were by shootout. More worrying for the Predators is that in all those games they've given up three or more goals against, and are giving up a lot of shots as well.
Reasons for that? Well, three of those games were against Vancouver, Philadelphia, and Boston, who are kind of offensive juggernauts. Or maybe it's because the league eventually gets a book on young D-men, and the Preds are rolling three of those right now.
They haven't quite adjusted to how they're being played at the moment, though they probably will Tuesday night. That's just how things are going.
While it seems farcical to worry about standings and other teams when your team can barely tie their skates at the moment, this is huge for the Hawks. They're five points back of the Preds with three games remaining with them. A win, and they're still very much in touching distance and catchable. Lose? Seven points is an awfully big gap, even with the tilts remaining.
But that's a concern for after. The Hawks just need a win. They need a bounce. They need a big save when they have to have it. They have to be disciplined, both in terms of attack and penalties.
This power play is one of the best in the league, and giving it repeated looks at a penalty kill that is a Joe Cocker impression right now is going to lead to death.
The Hawks also can't get impatient in getting at the Preds, because the turnovers at the blue line we've seen recently will be heartily punished. No stretch passes, no cutesie stuff. Attack as a five-man unit, work hard, limit mistakes. Do those things, they'll be right there once again, as they have been mostly, and are do a break.
Hopefully. We all need it.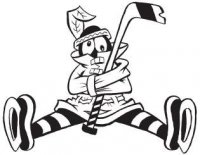 Sam Fels is the proprietor of The Committed Indian, an unofficial program for the Blackhawks. You may have seen him hocking the magazine outside the United Center at Gate 3. The program is also available for purchase online. Fels is a lifelong 'Hawks fan and he also writes for Second City Hockey .