In the brilliance of NHL scheduling, they've actually made a Hawks-Wings game seem like a dredge. We've already done this twice in the past two weeks, and they'll do it for a third time Saturday.
This time, though, it'll be in the land of auto bailouts and boarded up houses, and it'll be in the morning for those of us in the Central timezone. Who likes some hockey with their eggs?
For the Hawks, the news on Friday was that Marcus Kruger was activated and is ready to go, and Ben Smith was bounced back to Rockford. Whether Kruger resumes his second line role after missing a couple weeks is anyone's guess, though it is likely.
Dave Bolland has looked useful with Marian Hossa and whoever is on the other wing, but the Hawks probably want to return him to his checking duties with, well, at this point I have no idea. I'll guess it'll be Frolik and Shaw, with Jimmy Hayes getting a chance with Kruger and Hossa. But that's just a guess. Corey Crawford will return to the net.
It didn't take long for the Wings to lose grip on the tie for first they gained by stealing one out of the United Center last week. They were worked on Long Island by the Islanders, though it came without Pavel Datsyuk. They returned home on Thursday to win a shootout with Phoenix after tossing 42 shots at Mike Smith.
At this point, there aren't really any secrets between these two. It basically comes down to can the Hawks expose the Wings lack of speed on defense enough to outlast their defensive inefficiencies around their own net. Don't kid yourself, the Hawks had chances to blow out the Wings both games, and their power play and some wayward finishing kept them from doing so.
They only need to cash in on slightly more of those opportunities tomorrow to walk out of the Joe with two points.
As for the Wings, they have to get production from their top two lines, because their bottom two won't chime in, usually. Henrik Zetterberg has been off all year, but was able to help produce the equalizer last time.
Detroit has been a force at home, with the second best home record in the league. That might have something to do with getting the match ups they want, among other factors. But the Hawks took all three from the Wings in Detroit last season. Four is better than three.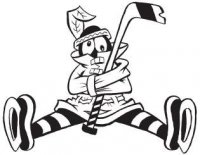 Sam Fels is the proprietor of The Committed Indian, an unofficial program for the Blackhawks. You may have seen him hocking the magazine outside the United Center at Gate 3. The program is also available for purchase online. Fels is a lifelong 'Hawks fan and he also writes for Second City Hockey .
Published at 6:00 AM CST on Jan 14, 2012 | Updated at 10:46 PM CST on Jan 13, 2012