A four-game losing streak is not time for panic. It's a usual dip in a long season. But a five-gamer topped off with a loss at home to the league's worst team, and the glass may not get broken but we'll all start picking up the hammer.
The Blackhawks face the Columbus Blue Jackets Tuesday night with both teams in a shuffle. The Jackets fired their coach Monday, which at this point is akin to changing a few light bulbs after everyone was off the Titanic.
This team's season was shot when they won one of their first 12 games. They haven't cared in a while, the management is a mess and they have some decisions to make. While usually a team in its first game under a new coach will have some extra jump, the Jackets may have lost their extra jump button long ago. They're also at the end of a long road trip, an occasion that screams having the bus running.
The Hawks are in a shuffle to make up for Patrick Sharp being out injured. Ben Smith was called up Tuesday morning, and he will start filling in that slot on the second line with Michael Frolik and Marian Hossa.
Smith's game picked up in Rockford since his last stint here in Chicago where he was a synonym for "nothing." Hopefully that continues. Frolik is only at center until Marcus Kruger returns, which is sounding like it could be in the next game or two.
The kids are still inhabiting the bottom lines, with Shaw taking Frolik's spot on Dave Bolland's line and Jimmy Hayes starting on the fourth line. But expect some shuffling unless the Hawks come out humming from the time Stranglehold winds down.
No analysis needed here.
The Hawks are miles better than Columbus, and only being deficient in the work department will see this get tricky. Now would be a good time to set a platform to shape up the special teams, the Jackets aren't good at either.
Most of all, the Hawks need a win. They should play like it. If they do, they'll have it.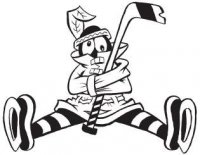 Sam Fels is the proprietor of The Committed Indian, an unofficial program for the Blackhawks. You may have seen him hocking the magazine outside the United Center at Gate 3. The program is also available for purchase online. Fels is a lifelong 'Hawks fan and he also writes for Second City Hockey .
Published at 2:25 PM CST on Jan 10, 2012