The first thing that will panic Blackhawks fans is a letdown. The Hawks have generally not been able to back up markers of performances with another one right after it.
The win over Detroit at home was followed by a coughed up hairball against Edmonton. An at least brave performance against the Flyers was then backup the next night by everyone on the team not showing up for Colorado. That win in St. Louis was followed by a shootout loss to Phoenix.
You can excuse Hawks fans then for getting a little itchy about how the Hawks will follow a superlative win over San Jose when facing one of the biggest disappointments in the league in the Buffalo Sabres. It really shouldn't take all that much to get one over on the boys from Niagra.
The Sabres were so full of hope before the season. For the first time, the most loyal fan base on this side of the border was rewarded with an owner with a lot of money and a lot of ambition. The Sabres spent to the cap, which never seemed possible. They were poised to be a power.
Then it all went to pot.
The Sabres have been let down by a couple of their signings, namely Ville Leino and Christian Ehrhoff. But anyone could have told them that was a real possibility.
Leino's numbers were padded by great teammates in Philly, and Ehrhoff has always been terrible at defending as a defender (weird, we know). The Sabres also have some long-time players who aren't helping the cause. Drew Stafford was immense last season, got himself a new contract, and that familiar pattern of a player who just got paid putting it on auto-pilot took shape once again. Derek Roy, their No. 1 center, has a bevy of volunteers from Buffalo residents who want to pack his bags for him. Past rookie-sensation Tyler Myers hasn't progressed from that Calder winning season.
They've been injured too. Ehrhoff and Robyn Regehr are going to miss out Wednesday night, as will Tyler Ennis and possibly Patrick Kaleta. But the biggest reason for this thud is goalie Ryan Miller. He's been terrible, and bitchy, all season. He has worse numbers than Corey Crawford. He can't bail out his struggling defense, and they can't bail him out either. He probably won't even start tonight, with backup Jhonas Enroth getting the chance.
The template to beat the Sabres was laid out perfectly by Detroit on Monday. Harass the under-performing Sabres D into mistakes and turnovers, capitalize. Pretty simple stuff.
Seeing as how the Hawks have more speed than Detroit, this shouldn't be a problem if they're willing to do the work.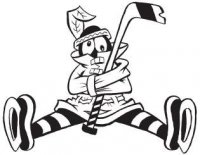 Sam Fels is the proprietor of The Committed Indian, an unofficial program for the Blackhawks. You may have seen him hocking the magazine outside the United Center at Gate 3. The program is also available for purchase online. Fels is a lifelong 'Hawks fan and he also writes for Second City Hockey .