Neither the Hawks nor the Wings were good Sunday. The ice was awful. The Hawks' passing was varying between barely passable and horrid. They missed clearances. They had turnovers. The Wings had their share as well. They kept having players get hurt.
In the end, it was just kind of a trench battle, and the Hawks did just enough to get a win. That's three one-goal wins against Detroit this year.
While the Wings had more of the possession, they didn't generate a hatful of chances. They only got 24 shots to the net, with the Hawks clogging lanes very well, blocking almost as many shots. Once again, the Hawks only asked Ray Emery to make a few big saves, and he did. The more that happens the more the Hawks will win.
And the difference, if you can believe it (and you won't), was the power play. The Hawks got a power play goal, the Wings didn't. So solid shot blocking combined with determination and winning the special teams battles will almost always equate to two points. It's not anything too different they're doing on the power play. The one change has been Jamal Mayers being the net presence and to win a couple face-offs here and there. Combine that with just getting shots through and then causing a ruckus around the net, and you'll get more results.
Oh, and the Hawks' big players were just that. Kane scored, Sharp had a goal and an assist, Hossa a helper. While Keith's and Seabrook's passing was pretty much splatter pattern, their defending was excellent. They broke up a lot of chances with pokechecks and good positioning, and that's the first bullet point on their job description.
That's three wins in a row without the captain, and you might not realize the Hawks are 7-3 in their last 10. It's a whole new test in St. Louis Tuesday, but the Hawks already have a good record on this road trip. But it's time to get greedy and have a great one.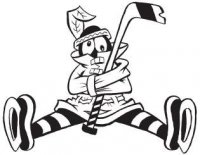 Sam Fels is the proprietor of The Committed Indian, an unofficial program for the Blackhawks. You may have seen him hocking the magazine outside the United Center at Gate 3. The program is also available for purchase online. Fels is a lifelong 'Hawks fan and he also writes for Second City Hockey .