For the Hawks, it's probably hard to not start shaking once they re-enter Rexhall Place. Last time they were there was the nadir of the season, a simply farcical 9-2 loss to a terrible Oilers team. Most Hawks fans immediately tried to wipe it from their memory, and the Hawks used it as a springboard to a 9-2-1 stretch after refocusing. So is it still wiped, or do the Hawks use the burn as motivation? Didn't work last time they saw the Oilers here in Chicago, as they tossed away a 4-3 loss after a couple weak goals let in from Corey Crawford.
Whatever their mindset, the Hawks will be seeing a team in freefall, returning to the depths and muck that the Oilers have inhabited for years now. Edmonton went 4-8-3 in the month of January that started with that win in the United Center. It took them from the invasion of the Northwest Division penthouse and stealing all the food, back to the cellar shoveling the coal for heat for those who belong up there, where the Oil usually find themselves.
Injuries played a part, as the Oilers were without their entire top line of Jordan Eberle, Ryan Nugent-hopkins, and Taylor Hall for a stretch. Only Hopkins won't play tonight, denting what was a sure-fire rookie of the year campaign.
But whatever lineup the Oilers ice, they really should be cannon fodder for the Hawks. They don't have anything that should make the Hawks struggle. They're not physical. They like to play open. Their defense and goaltending is, on its best nights, mediocre. Mostly, it's awful.
The Hawks have no concerns out of the Vancouver game, though Sean O'Donnell should return to the ice ahead of John Scott -- or he should just so all of us don't have another aneurysm. Any kind of effort resembling what we saw in Vancouver will roll over the Oilers. That kind of attention to backhecking and defense, with that effort level, will squeeze the Oilers right out of the game.
If the Hawks can reverse their Alberta performance from last time they were in the Canadian Rockies, they'll have started this trip 2-0-1. That kind of record in each of the three-game segments will see a stellar trip. It would also give the Hawks half the point total they need to have a successful trip with just one-third of it over. So start it tonight.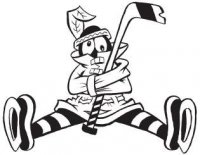 Sam Fels is the proprietor of The Committed Indian, an unofficial program for the Blackhawks. You may have seen him hocking the magazine outside the United Center at Gate 3. The program is also available for purchase online. Fels is a lifelong 'Hawks fan and he also writes for Second City Hockey .