Big news out of practice this morning was that Patrick Kane took part, and it looks all systems go for him to return after three weeks out (which is kind of what they said it would be, wasn't it?). He was skating on a line with Jonathan Toews and Troy Brouwer In fact, while we're here, let's dispense with the whole lineup, no?
Forward Line 1: Troy Brouwer-Jonathan Toews-Patrick Kane
Line 2:Tomas Kopecky-Patrick Sharp-Marian Hossa
Line 3: Bryan Bickell-Dave Bolland-Jack Skille
Line 4: Viktor Stalberg-Jake Dowell-Ryan Johnson
Starting goalie: Marty Turco
The defensive pairings will remain as they've been. Turco starts as Corey Crawford isn't quite over the bout of Plague he was suffering from over the holiday. You'll also notice that Fernando Pisani is out of the lineup, as perhaps something flared up for him. I'll be interested to see if Jack Skille can do a Pisani impression. Fernando's recent performances have been flying under the radar, but he was forming an excellent checking axis with Bolland. Skille's positional sense will be tested replacing that, or it might be if the Hawks were facing a team with more threat than a toddler wielding a plastic hammer. But more on that later.
Tomas Kopecky may also center that second line, as Sharp is more effective at wing. But Kopecky is a suck-fest at center, so y'know, it's however you like to get down, Q. John Scott and Jordan Hendry will assume the position in the pressbox. Interesting call on Scott, sort of, as the Blues get very feisty for these things and the Hawks may want a cop on the ice. Then again, that hasn't stopped them in the previous two meetings, so whatever.
Five is better than four, boys.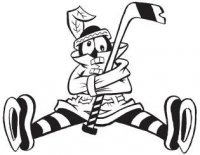 Sam Fels is the proprietor of The Committed Indian, an unofficial program for the Blackhawks. You may have seen him hocking the magazine outside the United Center at Gate 3. The program is also available for purchase online. Fels is a lifelong 'Hawks fan and he also writes for Second City Hockey .