It's that time. The time where your productivity goes straight down the toilet at work, where you start shaking no later than 4pm on gameday, the time when your non-hockey friends have genuine concerns about you health, and where your significant other seriously begins to question whether he/she made the right choice.
In other words, it's the best time of the year. And it's also time for me to put myself out there and try and predict how this will all go down.
And that's hard for me to do, because I can't really get a handle on the Hawks. For almost the entire season I kept telling myself and thinking that eventually, the stuttering engine that didn't always start and sometimes shook violently would start to purr, and even though this team would never look like last year's, it would still look pretty smooth. But then within the past couple weeks I concluded that it would always be a herky-jerky automobile, that this sneaking-in-at-the-end sort of team, is exactly what they have been all season.
Is this from-the-heavens second chance enough to remove the shackles and see them play free and to their potental? I don't know. Has the pressure of playing playoff hockey for about two months now left them just too worn to get up again when the real thing starts? I don't think anyone can tell. Or does the method of their entrance and the pressure-less position of being the decided underdog breathe new life into them? Again, I simply don't have an answer for that.
What I do know are the tangibles. Troy Brouwer is more likely to go than Dave Bolland, and even if Bolland does return either tonight or Friday in Game 2 there's going to be some ring-rust. This will not be "The Rat" that simply caved in the Canucks mental state, that's too big of an ask right after this long of an absence. And without that, the Hawks just seem short. There's not the depth down the middle, especially now that Patrick Sharp is a wing. The bottom six, barring a miracle, just can't provide all that much. And with the bottom line being so abhorrent on Sunday, there's going to be a temptation to skate everyone else more, and it's going to be hard to hold on to four games in seven using up that much gas against a team this good.
On the other side, it's easy to get a feeling for all the tangibles on the Canucks. They score a lot, they don't give up a lot, and they have weapons from everywhere. They have one of the best lines in hockey and right behind that is probably the most improved player in the game in Ryan Kesler. This defense is underrated, with some really nifty puck movers in Alex Edler and Christian Ehrhoff. Kevin Bieksa has cut the silliiness and become just a stone female dog to deal with. Roberto Luongo appears to be more relaxed and ready to shed the joke that he's become the past two springs.
But can I guarantee that they bring their A-game? Can I promise you that an Alain Vigneault coached team won't unravel? With everything going their way, and seemingly laid out before them, is this a team that I can confidently say will shoulder that pressure and revel in it instead of have it break them? No, I can't. No one can say that. In the mentality department, they probably have more to prove than the Hawks.
Oh, and the Hawks have Jonathan Toews, and when you have that, you're always in with a shout.
In the end though, it just appears too much to go up against. It's going to be a long series, unless the Canucks are way more even-keeled than I think they are.
Bottom line: winning a Game 7 on the road is probably the hardest task in hockey, if not sports. I think it's too much. The Champions stand proud, but eventually I think they're giving up the title this round.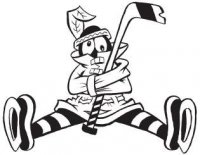 Sam Fels is the proprietor of The Committed Indian, an unofficial program for the Blackhawks. You may have seen him hocking the magazine outside the United Center at Gate 3. The program is also available for purchase online. Fels is a lifelong 'Hawks fan and he also writes for Second City Hockey .