By now, you've seen the highlights and/or read a game report and know the Hawks beat Columbus 4-1 Sunday night. Or, perhaps you are already hiding behind your couch in anticipation of Bears-Packers on Sunday and missed the news.
Either way, let's take look at some numbers from last night.
(ESPN Boxscore --- Event Summary -- CORSI)
-The first thing that popped out at me was this was the first game in a long while that the Hawks lost the faceoff battle, only winning 47%. A big part of their game is starting with the puck, whether they want to play the pretty game of last year or the slightly more gritty one of this year.
-Expanding on this, Dave Bolland continues to get completely horsed at the face off dot, and this has been a problem for the parts of four seasons he's been up here. At the moment, Dave Bolland is merely asked to nullify the other team's top line (though he has been scoring of late, I think the Hawks consider that a bonus. Yes, scoring a bonus at 3.3 million a year). If he would win more faceoffs, he would be able to play defense without actually playing defense, i.e. have the puck and make the other team defend. Hopefully he can improve as the year goes one.
To the other point, perhaps the Hawks think that when his defense picks up, his offense does too. And that's what happened. Bolly has eight points in his last eight games, and it's about that time he started getting the main checking assignment full time. Remains to be seen.
-You'll see most of the CORSI numbers for the Hawks are negative, and I think it's indicative of them merely being out there for the first two periods. The eye-test told you it wasn't a very good 40 minutes, just adequate enough from keeping a thoroughly mediocre Columbus team from running away from you.
-In fact, they were behind only due to the sheer power of an energized Marian Hossa. When he's fully on, there really is nothing like seeing the sheer dominance of Hoss with the puck. You can't get it from him. So it was as he set up Kopecky for the opener. You'll also notice that line (with Viktor Stalberg) was the only plus in CORSI on the night, as they were skating for all 60.
-The hit totals were down from recent games, especially Brouwer's and Bickell's. Again, it speaks to a lackluster opening two periods. But Brouwer and Bickell made up for it with points in the third, so there won't be any complaints here.
-Despite looking noticeable when they were out there, once again Jack Skille and Viktor Stalberg suffered when it came to ice time, for reasons that are in the mist but can't be gripped. The amount of penalties in the game didn't help, as neither play on special teams (though that should change).
-Lastly, Patrick Sharp is on pace to break his career high in goals, which is 36. And this is not an anamoly. Sharp's shooting percentage this season is 13.5, which is not that far out of line with his career shooting percentage of 12.5%. Constrast that with Bryan Bickell's unconscious 21.5%, and you'll see who's more likely to keep it up (generally the best in the league finish at 17% or so, and those are generally guys who score their goals from no more than gimme-putt range).
The difference is that Sharp is on pace to shatter his shot total for a season. His career high for a season was last year at 266, and at this rate he's going to be well over 300. Being on the point on a power play helps, but as he gets older Sharp is more and more wise in finding the spots to get open to fire. Next time you're at the UC, pay close attention to this.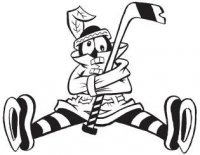 Sam Fels is the proprietor of The Committed Indian, an unofficial program for the Blackhawks. You may have seen him hocking the magazine outside the United Center at Gate 3. The program is also available for purchase online. Fels is a lifelong 'Hawks fan and he also writes for Second City Hockey .