While much has been made of the seven game win-streak of Corey Crawford (aka Mr. Crowley to The Committed Indian readers), we thought it might be prudent to look a little deeper and see just how good he's been.
Full disclosure: I've always liked Crawford, even going back to 2007/2008 when he first appeared on the scene. He's always been very controlled in net and remains big, i.e. not the slumped shoulders that Antti Niemi would exhibit from time to time. Crawford is also always square to the shooter, meaning he doesn't leave any unnecessary openings by being at awkward angles.
Here's a look at some of his signature games:
Nov. 14th vs. Anaheim: 3-2 win in OT
Crawford: 24 saves on 26 shots, .923 SV%
Crawford was very good this night, stopping 24 shots and being able to do nothing about both Duncan Keith and Niklas Hjalmarsson rolling out a red carpet for Ducks star winger Cory Perry to stroll on down.
Nov. 20th at Vancouver: 7-1 win
Crawford: 27 saves on 28 shots, .964 SV%
Hard to judge this one, as most everyone agrees the Canucks never came to the races on this one. To boot, he was behind an inspired Hawks team that completely soiled itself in Calgary the night before. Still, one goal against will almost always get you two points.
Nov. 26th at Anaheim: 4-1 win
Crawford: 26 saves on 27 shots, .963 SV%
A pretty sterling defensive effort, as the original defensive pairings of Duncan Keith with Brent Seabrook and Niklas Hjalmarsson with Brian Campbell brought back the cohesion that suffocated teams last year. Still, Crawford made some big saves here. This is where Coach Quenneville's Magnificent Goalie Tilt-A-Whirl started.
Nov. 27th at LA: 2-1 win
Crawford: 21 saves on 22 shots, .955 SV%
The best defensive effort of the year so far, Mr. Crowley didn't have much to do at all.
Nov. 30th vs. St. Louis: 7-5 win
Crawford: 21 saves on 26 shots, .808 SV %
Clearly the worst game of the streak, but Crawford simply wasn't very good here. He wasn't helped by his team completely turning off after taking a 5-1 lead, but Crow just couldn't come up with a big save when it was required. Still, got away with it.
Dec. 5th vs. Calgary: 3-2 win
Crawford: 24 saves on 26 shots, .923 SV%
Not good or bad. Both goals given up were long range bombs, and while Anton Babchuk has a cannon and Jarome Iginla has been doing that for over a decade, your goalie has to be your best penalty killer and both of these allowed the Flames to tie the game. Still, held out over the final 40 minutes against a pop gun offense.
Dec. 8th vs. Dallas: 4-3 win
Crawford: 28 saves on 31 shots, .903 SV%
Once again the Hawks were guilty of losing sight of the gas pedal with a lead, but the Stars first two goals were pretty unacceptable. The puck must be covered before James Neal could tap it in, and on the second though Crow was screened, that floater from the blue line had all the pace of a rickshaw toward the net, and should have been stopped. From there, the Hawks defense tightened and Crawford didn't have to make any more than one or two big time saves.
Conclusion? Crawford has been very good for most of the streak, and only middling for the rest of it. What does matter is that the Hawks defense just seems to play better in front of him. He faces few rebound chances. Maybe they are just more comfortable with a goalie who doesn't play the puck or where they know exactly where he'll be on every shot. That can't be discounted, as Turco's high-wire act can give anyone the heebie jeebies. Not saying Crawford shouldn't be applauded, or not start in San Jose. But let's hold off on the statues just yet.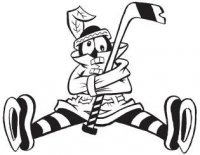 Sam Fels is the proprietor of The Committed Indian, an unofficial fan guide to the Blackhawks. You may have seen him hocking the magazine outside the United Center. Fels is a lifelong 'Hawks fan and he also writes for Second City Hockey .