It wasn't bereft of drama. Games between these two never are.
The Hawks withstood something of a barrage in the first 10 minutes of Tuesday night's game, even going down a goal on a Wings power play. But slowly, surely, the Hawks turned the game their way. And just like the first time these two met, after taking an early 3rd period lead, the Hawks were able to keep the waves from bringing the walls down. In fact, the Wings didn't muster much at all in an attempt to tie the game.
That makes for two gritty, defensive wins against division opponents in a row. Surely satisfying for all.
How did the Hawks do it? After a jumpy opening when they couldn't find each other's sitcks leading to sustained Wings possession, the Hawks began to use their speed advantage on the Detroit defense to pin them in. The Hawks were able to chase down retreating Detroit blue liners and cause turnovers, creating chances. Even just the harassment didn't allow the Wings to hit the neutral zone with any speed, and they had to resort to chips into the zone or extra moves to beat a stout line at the entry point. How many times were the Wings offsides tonight?
From there, it was just a matter of beating Jimmy Howard. But he takes some beating. Without Howard, the Hawks would probably waltz to a win by the end of the 2nd. But he kept Patrick Kane, Patrick Sharp and Michael Frolik at bay when all alone, as well as some other big saves.
What do you do when you're facing a goalie on his game? Get bodies to the front, get the puck there. That's what the Hawks did thanks to Jimmy Hayes, who bull-rushed the net on both the Hawks goals. He scored one and set up the other that Marcus Kruger was only too happy to cash in.
From there, it basically boiled down to want-to. The Hawks did the work on the boards, cleared their zone at all costs and closed off any openings. It was impressive stuff.
Halfway to canceling out those regulation losses, with encouraging wins on the way: It's certainly better than it seemed two weeks ago.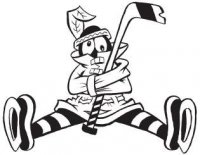 Sam Fels is the proprietor of The Committed Indian, an unofficial program for the Blackhawks. You may have seen him hocking the magazine outside the United Center at Gate 3. The program is also available for purchase online. Fels is a lifelong 'Hawks fan and he also writes for Second City Hockey .