It was announced today that Patrick Sharp and Patrick Kane have been named to the fantasy pool that the All-Star captain will pick from for the Game in Raleigh on the 30th.
As I've said before, even with this intriguing new format, the All-Star game is still pretty much a joke not meant for fans like you and me but for the corporate sponsors and whatever dope they can rope in. So now you know why Patrick Kane is on the roster. Then again, Kane is less likely to get arrested or something worse in Raleigh than he would be if he had four days here at home with nothing to do. So maybe I should rejoice.
I know the people who select this don't watch every game, but how Patrick Kane snuck onto this team is beyond me. I get that Hawks fans stuffed the ballot box in true Chicago fashion to get Duncan Keith onto the team, even though he's been just this side of total woof. But Kane? He missed eight games, and he's only showed up when he's felt like it. Kane's 33 points put him 49th in the league. So Ryan Getzlaf may have a serious beef here, as well as MIke Richards. But Kane is a name, and unless he actually soils himself on ice every game, they'll probably pick him to be in this occasion.
Sharp's a different study. Without Sharp's goals, the Hawks could be in trouble. Then again, maybe if he'd cared in his own zone for a majority of the year, the Hawks wouldn't have been giving up so many goals. I can't help but notice Sharp has the worst +/- on the team, as well as the worst Behind-the-Net Rating, something we use in The Indian as a sabermetric. Basically, that number states that for every 60 minutes Sharps skates at even-strength, the Hawks are two goals worse. It doesn't take into account his work on the power play, which can't be ignored. And 25 goals is 25 goals, so I guess I can go either way on this. But if Sharp put up these numbers playing for the Minnesota Wild? He wouldn't be making the trip to NASCAR land.
The only completely deserving all-star on the Hawks is Brian Campbell, and he doesn't have the numbers to prove it other than +/-. But he's got one of the best +/-'s in the league having missed the first month of the season. Campbell has kept the Hawks afloat just as much as Sharp's goals have. But whatever, I'll be napping on the couch either way.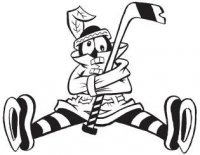 Sam Fels is the proprietor of The Committed Indian, an unofficial program for the Blackhawks. You may have seen him hocking the magazine outside the United Center at Gate 3. The program is also available for purchase online. Fels is a lifelong 'Hawks fan and he also writes for Second City Hockey .