While I and others have been very harsh on Joel Quenneville for many things he's done that we've felt have hamstrung the team, one thing he can't do much about is poor goaltending. And that's as much to blame for where the Hawks find themselves as the other things.
While the Hawks don't need a Vezina winner back there to be successful, no team can survive bad goals and the slaying of morale that they cause.
And with only 14 games to go, the Hawks are no closer to having solved this problem than they've been throughout the season. They have a starter who has completely lost his game again, and a backup who is capable for the most part but has a definite ceiling. It's hard to choose what to do.
On the one hand, Corey Crawford still has the higher ceiling of the two. We've seen him have a stellar playoff series, as the Hawks could have been blown out in four straight games last year if not for his heroics. There is a school of thought that because he's still capable of high-end play, though there's been no sign of it recently except for a four game stretch in February, that he should be allowed to see if he can find that form again. After all, if he doesn't the Hawks aren't going anywhere anyway, so it doesn't matter that much if he biffs the home stretch.
On the other hand, the Hawks still need points, and Emery is playing well at the moment. He probably provides a slightly higher floor than Crawford does at the moment. That is, he won't have a total meltdown that Crow has had agains the Kings or Leafs in recent weeks. He might let in a bad goal here or there, but not a boat load.
But Emery's highest performance is a well-known quanity. He can't win you a game, and will need a lot of help from the defense in front of him that might not be capable of it. Emery went into last year's playoffs with Anaheim on a roll. But in a series with serious scouting and adjustments, his flaws were exposed. He can't move side to side very well, and teams will expose that if they can. And almost all of the teams in the West can. You'll get solid from Razor, but there's little hope for great.
So basically, it's Sophie's choice in a mask.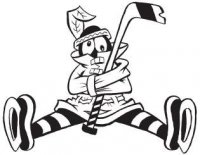 Sam Fels is the proprietor of The Committed Indian, an unofficial program for the Blackhawks. You may have seen him hocking the magazine outside the United Center at Gate 3. The program is also available for purchase online. Fels is a lifelong 'Hawks fan and he also writes for Second City Hockey .