Some news about the alumni this week.
First off, Monday night Kris Versteeg was traded from Toronto to Philadelphia. Steeger never really fit in up north. He's a wonderful complementary player, but when a team counts on him to be a premier scorer he's probably always going to let them down.
Plus his style of play is infuriating -- no one has ever told him he's not Mario Lemieux -- and it didn't exactly mesh with known drill seargent Ron Wilson. He'll blend in perfectly in Eastern Pennslyvania, where there's already a boatload of weapons and he can just fill in. He'll be a bigger boon to what has been the league's most dangerous penalty kill for years, the Flyers are always amongst the lead in shorthanded goals and that's been a Steeg specialty. He'll be especially useful on Mike Richards's wing, where he played last night against Tampa. Richards will do all the dirty defensive work, and Versteeg, who really blossomed when playing on a wing with Dave Bolland, does the same thing, just not as well as Richards does. The Flyers really look unstoppable at this point.
The bigger news was Dustin Byfuglien signed an extension with Atlanta for five years at a cap hit of $5.2 million per.
First off, it's shocking that someone chose to stay in Atlanta, and probably is a good sign for that franchise, even though they may end up in Kansas City or Quebec City some point soon. But it's a promising team, and Buff's a part of that. Some have tried to figure out how this will play into Brent Seabrook's negotiation for an extension here in Chicago, but that's hard to do.
There are two ways to look at it. One, Buff's and Seabrook's games are so different. Seabrook as the far more rounded game, and Buff can be an adventure in his own end and has been bailed out by his partner Tobias Enstrom (maybe the most underrated player in the league) all year. When Enstrom was out injured, Buff was getting murdered. So on the one had Seabrook just comes in with more pedigree and can ask for more money, if his agent chooses to use the Buff contract as a starting point.
On the other hand, Buff is something that is very rare in the league, a premier puck rushing defenseman (I really never, ever thought I'd write that sentence). They tend to get more money because of the scarcity of them, whereas the big, atom-smashing d-man that Seabrook is (though far more cultured than that) are a little more easily found. Either way, I'll be delighted if the Hawks can keep Seabrook here for years at that cap number, but I doubt they can. Stay tuned.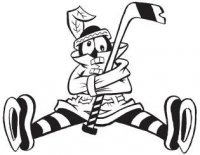 Sam Fels is the proprietor of The Committed Indian, an unofficial program for the Blackhawks. You may have seen him hocking the magazine outside the United Center at Gate 3. The program is also available for purchase online. Fels is a lifelong 'Hawks fan and he also writes for Second City Hockey .