The less said about Sunday night's game the better. It was a performance that ranged from awful to more awful, in every facet. You know what I would say about the power play, or Nick Leddy, or the host of other Hawks who were simply porous. And that's being kind.
The Hawks got an immediate chance to put things right Sunday against the Ducks in Orange County, though that really hasn't been their forte, has it? They backed up a bad performance at home to Dallas with whatever that was last night in L.A. Just like they backed up a bad performance in Calgary by giving up nine to Edmonton in November. Or after giving up eight to Edmonton losing to Calgary next out. The Hawks' ability to put bad losses behind them has been lacking all year.
Which is scary, because the Ducks are one of the hottest teams in the league. They're 8-2-3 in February and have had such a streak of brilliance the past couple months that they went from 20 points out of the playoffs to a still unlikely but possible six points out. This is what Bruce Boudreau does best: take a floundering team, unlock the shackles and watch the horse crash in at the finish line.
How are the Ducks doing it? Pretty much how they did last year. Ageless scoring from Teemu Selanne, Corey Perry smashing all that is in front of him at 30 goals and the added ingredient of stellar goal-tending from Jonas Hiller. Seems like there's always one game per year between these two where Hiller wins it on his own. Haven't had one yet. Getting queasy now.
But it's more about the Hawks tonight. All the players who have gone missing need to stand up, and I'm looking squarely at Marian Hossa and Patrick Kane. Hossa was simply terrible, looking either tired or lazy. Neither is good. I've made excuse after excuse for Kaner, but with Toews out the Hawks need a dominating Patrick Kane, not just a contributing one.
Oh, and the power play looking above a kindergarten recess would help. Strip it down to its bare bones, dump the puck in deep, go get it, get it to the net with bodies as quickly as possible. Eschew the passing, it's not working anyway. Just one power play goal would do so much for the unit and the team as a whole. It's quite clearly weighing on them.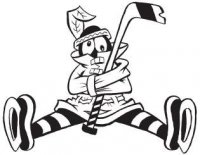 Sam Fels is the proprietor of The Committed Indian, an unofficial program for the Blackhawks. You may have seen him hocking the magazine outside the United Center at Gate 3. The program is also available for purchase online. Fels is a lifelong 'Hawks fan and he also writes for Second City Hockey .