Not much will change for the Avalanche tonight from their victory Monday in the altitude. In fact, they have the same players out, so their lineup will look the same. That is:
First Line: Kevin Porter-Paul Stastny-Brandon Yip
Second Line: Tomas Fleischman-Matt Duchene-David Jones
Third Line: Daniel Winnik-Ryan O'Reilly-Greg Mauldin
Fourth Line: David Koci-Phillipe Dupuis-Cody McLeod
Defensive Pairing: J.M. Liles-Ryan O'Byrne
Defensive Pairing: Adam Foote-Matt Hunwick
Defensive Pairing: Ryan Wilson-Kevin Shattenkirk
Goalie: Craig Anderson
As you probably learned on Monday, if that was your first viewing of the burgundy and white (it is burgundy, right?) the Avs are incredibly fast and attack the offensive zone like a mobster to the champagne room -- if The Sopranos has taught me right.
Head coach Joe Sacco likes all five on the ice to attack. There isn't a lot of pretty plays on this side, just a very straight, north-south game. They send two forwards in on the forecheck -- meaning when the 'Hawks gain control of the puck in their own zone they will be under pressure quite quick. This worked a charm on Monday when the Hawks defensemen were beyond awful, not even approaching suck.
The Avs can pull off this system because they are blessed with a bounty of quick defensemen who can join the play. John-Michael Liles is having his best season, and rookie Keven Shattenkirk is blossoming before everyone's eyes. If Kyle Cumiskey were not injured, they'd be even more dangerous.
But as you also saw on Monday, they are not exactly stable defensively. There is almost no size on the Avalanche, and the one guy who has it, Adam Foote, can't move and is 54 years old and pretty much finished. The Hawks got to the Avalanche crease at will, and they should do so again tonight. If they're intent on being physical with the Avs blue-liners, they'll profit, as they're one of the few teams that can catch them.
If the top four Hawks defensemen resemble anything like the....well, top Hawks four d-men, the Hawks should garner two points.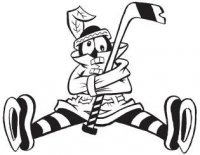 Sam Fels is the proprietor of The Committed Indian, an unofficial program for the Blackhawks. You may have seen him hocking the magazine outside the United Center at Gate 3. The program is also available for purchase online.Fels is a lifelong 'Hawks fan and he also writes for Second City Hockey .