Editor's note: NBC 5 will have continued live coverage from Grant Park throughout the day Sept. 5. Tune in live here or watch in the player above.
Whether you're heading to the game or just trying to avoid the traffic, there's a lot of things fans and Chicagoans need to know ahead of Thursday's Bears-Packers game at Soldier Field.
What streets will be closed?
Columbus Drive will be closed between Balbo Drive and Jackson Boulevard beginning Wednesday at 8 p.m. for the NFL Kickoff Experience in Grant Park (details below). The closure remains in place through Friday morning.
East Ida B. Well will be closed from Congress Plaza Drive to Columbus until Saturday.
East Congress Plaza Drive from Harrison to Van Buren is closed until Friday.
In addition to full road closures, Chicago's Office of Emergency Management and Communications warns "intermittent lane reductions may be implemented to ensure the safety of motorists and pedestrians."
Drivers are being urged to seek an alternate route.
Where can I park?
For motorists heading to the game, Soldier Field parking lots will open at 3:20 p.m.
If you have a Bears parking coupon:
North Garage: BLUE or ORANGE coupon.
Waldron Deck: WHITE coupon.
South Lot: RED coupon.
East Museum Lot: YELLOW coupon.
Adler Planetarium Lot: PURPLE coupon.
Family Friendly (no alcohol) Lot: OFF-WHITE AND BLACK STRIPED coupon.
Cash parking on Game Day (parking rates may change):
Grant Park North: Entrance is on Michigan Avenue between Randolph and Monroe. No tailgating, shuttle is provided.
Grant Park South: Entrance is on Michigan Avenue between Jackson and Van Buren. No tailgating, shuttle is NOT provided.
Millennium Garage: Entrance is located off Columbus Drive between Monroe Street and Randolph Street - $38 day of game, online pre-paid varies $20-$31, $316.50 Season Pass. No tailgating, shuttle is provided.
Millennium Lakeside Garage: Entrance is located off Columbus Drive between Randolph and Monroe - $38 day of game, online pre-paid varies $20-$31, $316.50 Season Pass. No tailgating.
31st Street McCormick Place Lot B: Off 31st Street and just west of Lake Shore Drive - $40 day of game for cars, online single game pre-paid $50, $80 for buses and RVs. Tailgating is allowed. Shuttle provided.
McCormick Place Lakeside Garage Lot C: Follow signs on 31st Street east of Lake Shore Drive. Entrance on Fort Dearborn Drive - $35. No tailgating, shuttle is NOT provided.
18th Street Lot: Just west of LSD at 18th Street exit. $60 Prepaid, cars only, alcohol not permitted.
Adler Planetarium Lot (RVs, campers, buses, and cars): Entrance located on Linn White Drive west of Museum Campus Drive - $155 Prepaid for limousines, RVs, campers, and buses; $101 Premium for cars, $1,026.50 Season Pass, $50 for cars day of game when available. Tailgating is allowed.
Burnham Harbor Lot (beginning in November): Entrance located on Waldron Drive and Museum Campus Drive - $50. Tailgating is allowed.
Oversized vehicles and limousines
Oversized vehicles (bus, camper or any vehicle that does not fit inside the lines of one designated regular-size parking space) can be reserved at the Adler Lot for $150 plus a $5 transaction fee by visiting SoldierField.ClickAndPark.com. When available, buses and RVs can also park at the 31st St. McCormick Place Lot B for $80.
Buses, taxi cabs, and limousines will not be allowed to enter Soldier Field Campus starting 90 minutes after kick-off until one hour after the game is over. Buses may drop-off and pick-up guests on Columbus Drive, north of Balbo. Buses cannot drop off or pick up guests on any other area roadway.
Chicago Bears Offer New Game Day Food Options
What are the best ways to get to the stadium?
Metra
There are 11 rail lines that extend from the Chicagoland suburbs to downtown Chicago. These rail lines exit downtown at four stations:
LaSalle Street Station – on LaSalle Street between Van Buren Street and Congress Parkway
Union Station – on Canal Street between Adams Street and Jackson Boulevard
Ogilvie Transportation Center – on Madison Street and Canal Street
From OTC and Union Station, the #128 Soldier Field Express buses travel a non-stop route to Soldier Field. CTA's #128 Soldier Field Express buses begin leaving the stations starting two hours before game time until 30 minutes after kickoff. At OTC, board buses on Madison Street. At Union Station, board buses on Jackson Boulevard east of Canal Street.
Millennium Station – on Randolph Street and Michigan Avenue
Metra Electric will offer extra service for Bears games. For games at 7 p.m. and later, trains 132, 236, and 136 will stop at 18th Street. An extra outbound train will depart Museum Campus/11th Street approximately 30 minutes after home games.
South Shore Line runs trains on the Metra Electric Line from South Bend, Indiana to downtown Chicago, serving the southeast portion of Chicago and northwest Indiana. Exit at the McCormick Place stop at 18th Street and walk one block north to Soldier Field.
CTA
The Red, Orange, and Green Lines stop at Roosevelt Station, between State Street and Wabash Avenue, where transfers can be made to the #146 Inner Drive/Michigan Express bus, or walk east on Roosevelt Road through Museum Campus to the stadium.
Soldier Field can be reached on the #128 Soldier Field Express and the #146 Inner Drive/Michigan Express buses.
To exit Soldier Field after the game, board #128 and #146 buses along the west side of the Transportation Center ("East Museum Lot") at the corner of McFetridge and Museum Campus Drive, just northeast of the stadium.
Pace
Pace offers Soldier Field Express buses. The bus service providing express service from suburban locations to Soldier Field runs only during the regular season.
Uber/Taxi/Lyft
The designated pregame drop-off locations are at the 18th St. turnaround just west of Lake Shore Drive and on Balbo Dr. at Columbus Dr. Postgame pick-up location is ONLY on Balbo Drive at Columbus Drive north of Soldier Field (subject to change).
Watch as Bears Unveil Payton, Halas Statues at Soldier Field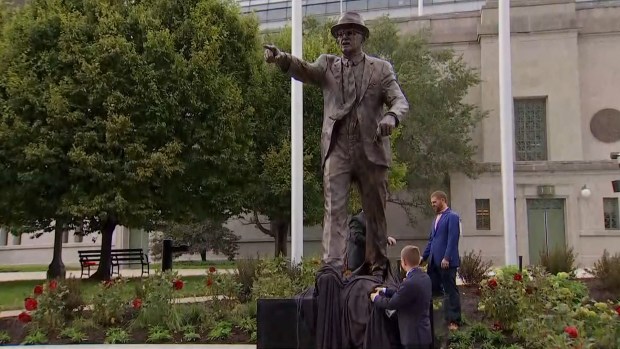 What can I bring to Soldier Field?
Bag policy
The Chicago Bears encourage fans not to bring any bags, but if necessary, each fan will be allowed one per person inside Soldier Field. There are strict restrictions, however. The only bags being allowed are:
Bags that are clear plastic, vinyl or PVC and do not exceed 12"x6"x12"
One-gallon re-sealable clear freezer bag
Women's clutch purse no larger than 4.5" x 6.5" with one of the clear plastic bags
Medical bags for accompanying patron
Prohibited bags include: purses larger than a clutch bag, coolers, briefcases, backpacks, fanny packs, non-clear cinch bags, luggage of any kind, seat cushions with zippered covers, pockets or flaps, computer bags, camera bags, and any bag larger than the permissible size.
Weapons/firearms (insert no-firearm logo)
Alcoholic beverages and "Palcohol" (Powdered Alcohol)
Any bag, case or purse other than the NFL approved bags, see "Bag Policy" below
Seat cushions with zippered covers, pockets or flaps
Balloons and beach balls
Binoculars
Cameras with lenses that exceed 6" when fully extended
Cans, bottles, or other beverage containers
Clothing or signage with offensive or vulgar language or that blocks fans' view
Confetti
Fireworks, smoke bombs
Illegal drugs
Laser pens and pointers
Noise-making devices (i.e. horns, whistles, etc.)
Poles of any kind, including selfie-sticks
Strollers (fans can check strollers during games through October at Gate 10 or in the United Club)
Umbrellas
Video or movie cameras
Smoking cigarettes, using smokeless cigarettes, e-cigarettes or chewing smokeless tobacco
Any other items deemed to be dangerous or inappropriate
Unmanned Aircraft Systems ("Drones")
Any coolers and ice chests (includes soft sided)
What should I know about the tickets?
All fans are required to enter Bears home games at Soldier Field using a mobile ticket. The team has offered the following tips ahead of Game day:
Add your ticket(s) to your phone's digital wallet in advance to avoid slow or weak Wi-Fi or cellular signals at the stadium
Make sure you have a full battery charge before you head to the stadium
If you are attending with guests, transfer (forward) each person their own ticket in advance
What will the weather be like?
Mother Nature isn't getting in the Bears' way this week.
Despite a stormy Tuesday that left serious damage in parts of the Chicago area, it appears conditions will stay dry throughout the day Thursday.
The day will see partly sunny skies met with pleasantly cool conditions, so fans tailgating at Soldier Field or watching from Grant Park might want to dress a little warmer or bring layers.
For a full breakdown of temperatures throughout the game click here.
Can I tailgate?
Tailgating is allowed on all surface lots of the Museum Campus, the upper level of the Waldron Deck and the Southwest Parking Facilities (McCormick Place 31st Street Lot B only). Party set-ups and grills that exceed the one designated parking space are prohibited. Tailgate set-ups cannot block vehicles entering or exiting the parking lots; set-ups in violation will be removed. Open containers of alcohol are not permitted outside of the parking lots, on the surrounding parklands or on the shuttles.
Chicago Police Officers will issue citations for violators. Tailgating during the games or after night games (including McCormick Place 31st St. Lot B) and consuming alcohol in the "Family Friendly" No Alcohol lots are all prohibited.
Miller Lite Chicago Bears Fan Zone: Features activities for fans of all ages prior to each of the first four regular season home games. Open two and a half hours prior to kickoff, closing ½ hour prior to kickoff. This event is complimentary, open to the public and features alumni appearances, Mini Monsters Zone brought to you by Advocate, photo ops, tailgate games and activities, music, giveaways, food and beverages available for purchase and more. The Miller Lite Bears Fan Zone is located on the Stadium Green (southeast and southwest lawns directly outside of Gate 0).
Miller Lite Chicago Bears Ultimate Tailgate: Opens two hours prior to regular season home games until the end of the game. This event is complimentary, open to the public and features alumni appearances, music, tailgate games, TVs, communal tables, food and beverages available for purchase and more. The Miller Lite Bears Ultimate Tailgate is located on the North Side of Soldier Field on the Field Museum Terrace.
Can You Answer These Bears Trivia Questions?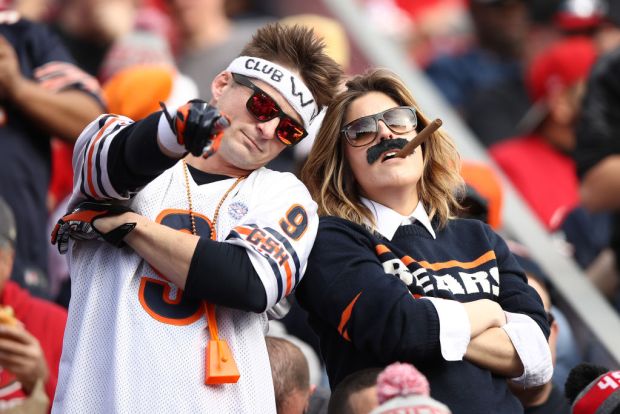 Can I bring signs to the game?
Banners, flags and signs are permitted provided the item does not obstruct the view of other guests, is not commercial or offensive, displays profane language, advertisements, or political slogans and must not be placed over any official stadium signage. Items must not be attached to a pole or the like which may cause harm to the guests seated around you. Stadium security reserves the right to remove these items from your possession if deemed appropriate for any reason.
What else is the city doing for the game?
The NFL will also be hosting a massive celebration and watch party for the big game. The massive celebration, presented by EA Sports Madden NFL '20, will feature performances by Meek Mill, Meghan Trainor and Rapsody along with appearances by Bears legends, photo opportunities with the Vince Lombardi Trophy and all 53 Super Bowl rings.
The park will also host an NFL Kickoff Watch Party starting at 7 p.m. CT where fans can cheer on the Bears as they "take on the Packers in another historic matchup to kick off the season."
The experience will be free and open to the public, rain or shine.
Gates open at 12 p.m. on Sept. 5 and access to the viewing areas will be first-come, first-served.
There will be a "clear bag policy" in place at the event.
What time is the Bears-Packers game?
The game is expected to begin at 7:20 p.m. CT, but officials are urging fans to leave extra time for security and transportation.
Packers vs. Bears: A Rivalry By the Numbers
How can I watch?
NBC 5 will have continued live coverage from the Grant Park celebration throughout the day Sept. 5. Tune in live here.
The game is set to air on NBC.