With two picks in the fourth round of the 2017 NFL Draft, the Chicago Bears selected safety Eddie Jackson and running back Tarik Cohen – followed by guard Jordan Morgan in the fifth.
The Bears' first move in Saturday's fourth round was to trade up to take the 112th overall pick from the Los Angeles Rams, in exchange for the 117th and 197th (sixth round) picks.
With that 112th selection, the team took Alabama safety Eddie Jackson. After winning the 2015 national championship in an outstanding junior season where he was first-team All-SEC and third-team AP All-American selection, Jackson returned to Alabama to try for another title.
We've chosen Alabama DB Eddie Jackson with the 5th pick in the 4th round (#112 overall).
Welcome to Chicago!#NFLDraft#BearsDraftpic.twitter.com/zOO79R2ocV

— Chicago Bears (@ChicagoBears) April 29, 2017
However, while returning a punt in the eighth game of the season, Jackson suffered a broken leg that ended his college career and knocked him out of participation in the NFL Scouting Combine. Despite his medical risks, Jackson brings versatility to the roster as a defensive back with five touchdowns on interceptions and punt returns since 2015. Ryan Pace Addresses Bears' Draft Philosophy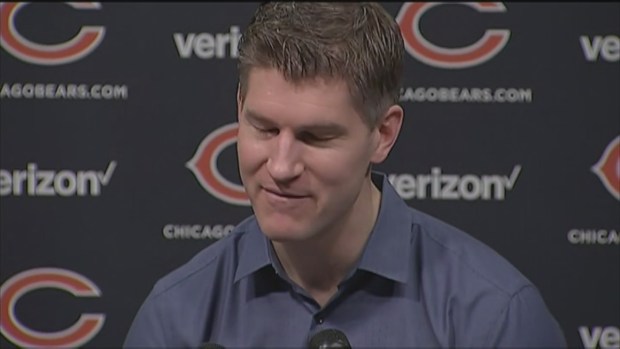 With the 119th pick, the Bears then took Tarik Cohen, a running back from North Carolina A&T. Standing at 5'6", Cohen is smaller than average – but known for his speed, clocking a 4.42 second 40-yard dash, landing him third among running backs in this year's draft class.
We've chosen North Carolina A&T RB Tarik Cohen in the 4th round (#119 overall) of the #NFLDraft.
Welcome to Chicago! pic.twitter.com/W8MEVdSEGr

— Chicago Bears (@ChicagoBears) April 29, 2017
The MEAC's all-time leading rusher with 5,619 yards, Cohen, nicknamed "The Human Joystick," was an All-American in 2016 and set a school record with 1,588 yards and 19 touchdowns on 212 carries.
Turning to the fifth round, the Bears selected guard Jordan Morgan, a walk-on from Kutztown University in Pennsylvania.
We've chosen Kutztown OL Jordan Morgan in the 5th round of the #NFLDraft.
Welcome to Chicago! #BearsDraftpic.twitter.com/bLVLv3elFP

— Chicago Bears (@ChicagoBears) April 29, 2017
Saturday's three picks brought the Bears' 2017 draft class to five players, after the team caught nearly everyone by surprise by trading up for quarterback Mitchell Trubisky, then selecting tight end Adam Shaheen in the second round.
Last season, the Bears finished last in the NFC North at 3-13 in their second year under GM Ryan Pace and coach John Fox, as years of shoddy drafting combined with a long list of injuries exposed a glaring lack of depth. It all added up to Chicago's lowest win total since the 1973 team went 3-11, the most losses since a 1-13 finish in 1969, and a busy offseason for a rebuilding team.