Leila Rahimi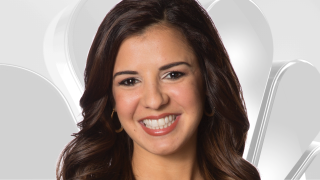 Leila Rahimi is a sports host/anchor and reporter at NBC 5. In addition to anchoring and reporting sports on television, she is the co-host of "Bernstein and Rahimi," 9 a.m.-12 p.m. on 670-AM, "The Score."
Rahimi moved to Chicago in 2015 as a host, anchor and reporter for NBC Sports Chicago. There, she hosted "Baseball Night in Chicago," "White Sox Pregame and Postgame Live," "Cubs Pregame and Postgame Live," and their nightly news shows.  Rahimi also served as a courtside reporter for the Chicago Bulls. Additionally, she was the rinkside reporter in 2018 for NBC's broadcast of the 2018 Winter Olympics, reporting for both the women's and men's hockey tournaments.
Prior to moving to Chicago, Rahimi held similar roles at NBC Sports Philadelphia and CSN Houston. She also served as a host at MLB Network, anchoring their Strike Zone channel. Additional in-game reporting roles include the Houston Rockets, Houston Astros, San Diego Padres, NBC's broadcast of the Bowlero Elite Series, Conference USA football, Big 12 Baseball, and Texas High School Football.
Rahimi worked at local news affiliates in Austin, Sherman and Tyler, Texas, as a multi-platform journalist, reporting and anchoring news and sports in various roles.
Rahimi is a native Texan, having graduated Magna Cum Laude with a degree in journalism from the University of North Texas.