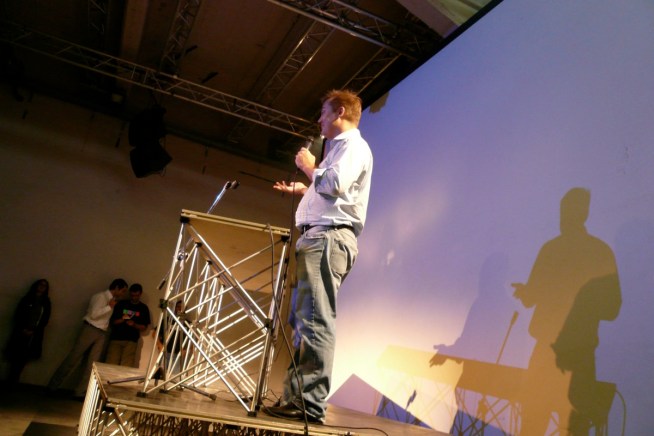 Jason Calacanis may be having some fun with people but he may also be serious when he says TechCrunch50 will be no more.
How do you announce the end of a popular Silicon Valley conference that connects the industry's next big thing with the people who can fund that dream? Through a sock puppet of course.
TechCrunch 50 is calling it quits after just three years. At least according to one of the founders.
The conference was started in 2007 as a joint venture between Tech Crunch and Mahalo.com founder Jason Calacanis.
Tuesday, Calacanis took a break from the conference and his patriotic debate with fellow co-founder and TechCrunch editor Michael Arrington to tell a sock puppet the conference was over.
"I can tell you that this is the last TechCrunch 50," he said. "We had three good ones but this is it."
The puppet was quick to call Calacanis' bluff but the Internet guru swore the news was true.
"I'm willing to discuss the issue, but only if you use a puppet," he said. Unfortunately we didn't have a puppet on hand.
Arrington declined to comment on the announcement because he said he had not spoken to Calacanis.
VentureBeat reported the two founders had a dispute over the "profit-sharing terms of their partnership" but Arrington would not comment on that either, other than to say the video appears to be "theatrics."
Given the source of the exclusive, Arrington might not be too far off and Calacanis did leave the door open for something else next year.