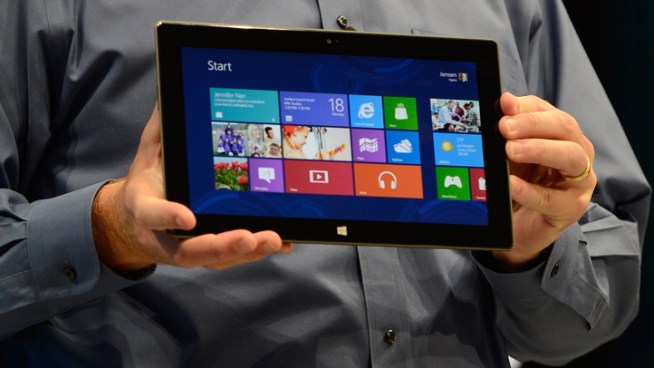 Kevork Djansezian/Getty Images
Microsoft CEO Steve Ballmer shows the new tablet called Surface during a news conference at Milk Studios on June 18, 2012 in Los Angeles, California. The new Surface tablet utilizes a 10.6 inch screen with a cover that contains a full multitouch keyboard.
After a lot of rumors, and a lot of secrecy, Microsoft has managed - for Microsoft - quite a feat. It's managed to impress a lot of people with a new piece of hardware.
Reporters are saying "Zune, who?" now that they've had a chance to check out the new Windows-based tablet called "Surface." You remember Surface, right? Cool technology built into tables that you could touch and move things around on? Well, now it's shrunk down into a tablet.
Surface checks in at a very thin 9 millimeters, weighing one and a half pounds, with a generous 10.6 inch display. It's further proof that we are entering headlong into a tablet computing generation - not just for Apple fans, but Windows devotees as well.
I haven't had a chance to get any hands-on time yet, but noticed a cool feature .. a magnetic cover for Surface that doubles as a full keyboard. Nice.
Microosft says it will have Surfaces with 32 GB and 64GB of storage. At this point, we're being told that Surface will be available as Windows 8 launches - What they're calling the "Pro" version will come three months later. Hmmm. That's a bit of lag time. Also, no word yet on pricing.
So .. cool new product. Will you hold off on that iPad purchase to wait for it?
Scott can be found on Twitter: @scottbudman